2019 NBA Finals Warriors extend series with pulsating 106-105 Game 5 win
PhilBoxing
https://philboxing.com/news/story-144902.html
TORONTO — With their championship at stake and with Kevin Durant exiting early with an Achilles injury, the Splash Brothers rescued the Golden State Warriors from elimination by nailing back-to-back-to-back threes en route to a 106-105 win in Game 5 of the NBA Finals on Monday night (Tuesday morning RP time) at the Scotiabank Arena.
With the Warriors down 103-97 with 3:08 left in the fourth quarter, Steph Curry and Klay Thompson orchestrated a 9-2 finishing kick to turn the tables on the Toronto Raptors, who were on the verge of winning their first-ever NBA title.
Curry finished with 31 points while Thompson ended up with 26 points as the All-Star duo combined for 12-of-27 from 3-point range. DeMarcus Cousins added 14 points in relief play while Draymond Green bounced back from a sub-par Game 4 performance and logged 10 points, 10 rebounds and eight assists.
Prior to being injured at the 9:50 mark of the second quarter, Durant was putting together a magnificent performance with 11 points in 12 minutes while hitting all three of his 3-point attempts.
\"We made a lot of different statements over the course of these five years. Win or lose, I don\'t feel like we need to prove anything anymore. It\'s just about can we got the job or not,\" Curry told reporters after Golden State trimmed the series deficit to 3-2 with a chance to even things up with Game 6 at the Oracle Arena on Friday morning (Philippines time).
After a slow start, Kawhi Leonard emerged as the Raptors\' leading scorer with 26 points on 9-of-24 shooting. He also had 12 rebounds, six assists, two steals and two blocks in 41 minutes.
The Raptors fell behind 77-63 with 5:46 left in the third period before closing in at 84-78 entering the final stanza. Leonard\'s personal 10-0 run late shoved Toronto ahead, 103-97, with 3:03 to go, but the couldn\'t put away the resilient two-time defending champions.
Kyle Lowry had a strong effort for Toronto with 18 points and six dimes, but his potential championship winning corner 3 was partially blocked by Green as time expired. Marc Gasol had 17 points and eight rebounds for the Raptors while Serge Ibaka chipped in 15 off the bench.
Asked how his team would react after such deflating loss, Raptors head coach Nick Nurse said \"We don\'t really have much choice, and I think that our team has reacted all year long great to bad losses, and I would say it takes a lot to beat this time, and that took a lot of blows and a heck of a lot of balls bouncing the wrong way in the last couple of minutes for us to come out on the wrong side tonight.\"
FASTBREAK. The Warriors converted 20 triples in Game 5, the second-highest total in an NBA Finals game. The record is 24 set by the Cleveland Cavaliers against the Warriors on June 9, 2017.
With their championship at stake, the Warriors shot 46.3 percent from the field (38 of 82) and 20 of 42 from three-land. Golden State also sank 10 of 14 free throws.
The Raptors, meanwhile, swished just 38 of 85 shots (44.7 percent) and 8-of-32 triples (25 percent).
After picking up another technical foul in Game 5, Draymond Green\'s total is now six, one more away from being suspended for a game.
Lebron James 'Antagonist' Dillon Brooks 39 points slap haters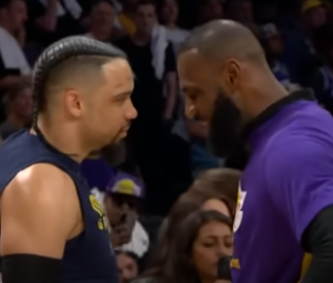 Despite the Warriors and Lakers fans booing Dillon Brooks, the latter erupted with 39 points in the FIBA Cup tournament.
Brooks gets booed in every game due to the fact that the entire pacific is warriors and Lakers die-hard fans.
During the clash with Team USA, Brooks got MVP chants after scoring 39 points that defeated USA for bronze.
It can be recalled that Lebron and Brooks were antagonistic to each other in the NBA when Dillon insulted Lebron for being too old.
If Lebron James joined the national team, Team USA vs Team Canada might be more exciting to see.
Meanwhile, reports said that Dirk Nowitzki is the only player in the last 18 years to score more points (47) in a single World Cup game today than Dillon Brooks (39).
NBA fans blame Stephen Curry, Lebron James et al for Team USA lost in FIBA Cup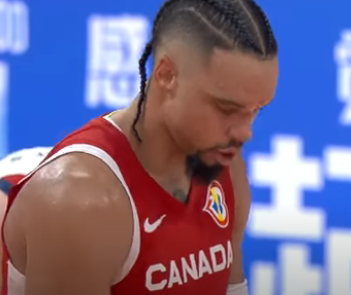 NBA fans are making fun of NBA superstars of Team USA. like Stephen Curry, Lebron James, Leonard Kawhi and others.
Fans believed Team USA had a chance if they played in the FIBA Cup last September 10, 2023.
Team USA lost to Team Germany (113 – 111) and Team Canada (127 – 117) that let them go home without any medal.
It can be recalled that Stephen Curry is interested in joining the national team. But due to health reasons he changed his mind.
34-year-old Curry is entering his 15th season in the league thus he needed to take rest.
On the otherhand, 38 years old Lebron prioritized the NBA instead of the national team.
The Los Angeles Lakers superstar was not interested in representing Team USA in the 2023 World Cup at all according to Basketball USA.
The 12 players who represented Team USA in the FIBA World Cup 2023 are all young players.
Meanwhile, Lebron's enemy Dillon Brooks exploded with 39 points. Shai Gilgeous-Alexander added 31 that led Canada to win the third-place in overtime.
NBA Players pressured : Team Canada never bagged a Medal since 1930's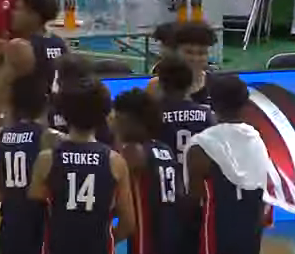 Team Canada has never bagged a medal in the FIBA World Cup since 1936. They have only won a silver in the Berlin Olympics.
Team USA Tyrese (Indiaaa Pacers) said that since the 1930s, Canada has never won a medal so they're coming for them.
Team Canada Kelly Olynyk (UTAH JAZZ), Alexander-Walker (Minnesota Timberwolves) , RJ Barrett (KNICKS), Brooks (Houston Rockets), Luguentz Dort (Oklahoma City Thunder), Gilgeous-Alexander (Oklahoma City Thunder), and Norman Powell (LA Clippers) are all forced to win.
It can be recalled that Team USA lost to Germany and now settled for a bronze medal.
Germany and Serbia clashed for FIBA Cup finals
Meanwhile, both countries are expected to play in the 2024 Summer Olympics in Paris, France..