2019 NBA Finals Afetr successful surgery, Durant faces long road to recovery
PhilBoxing
https://m.philboxing.com/news/story-144948.html?fbclid=IwAR2Seq4XJljsUpx0e_0tXaz2gaaw2A1l3JlSscJNJ_0BE6GsZR4DRBoJdns
OAKLAND — As rumors swirled on the extent of the lower leg injury he sustained in the second quarter of Game 5 last Tuesday, Kevin Durant turned to Instagram to set the record straight.
\"I did rupture my Achilles. Surgery was today and it was a success,\" the Golden State Warriors superstar announced and posted a photo of himself at a hospital bed in the Hoag Orthopedic Institute in New York where he is presently recuperating.
There is no definite timetable for the return of the two-time NBA champion and two-time NBA Finals MVP, but Dr. Alan Beyer, an orthopedic surgeon, told reporters that the entire process could take between eight to 12 months.
\"My road to recovery starts now! I got my family and loved ones by my side and we truly appreciate all the messages and support people have sent our way. Like I said Monday, I\'m hurting deeply but I\'m OK. Basketball is my biggest love and I wanted to out there that night because that\'s what I do. I wanted to help my teammates on our quest for a three-peat,\" Durant added.
Kevin Durant loses the ball after Monday\'s injury.
Durant is helped out of the Arena after the injury.
Durant was already nursing a calf strain when he ruptured his Achilles as he attempted to blow by Toronto Raptors big man Serge Ibaka. After plating his feet for a rapid burst, Durant\'s right leg buckled under the strain and he immediately crumpled on the floor of the Scotiabank Arena.
Meanwhile, the 2019 NBA Finals resumes Friday morning (Philippine time) with Game 6 at the Oracle Arena in Oakland where the Warriors hope to force a Game 7 against the Raptors, who are eyeing their first-ever NBA title.
Game 7, if necessary, is Monday morning at Scotiabank Arena in Toronto, Canada.
Click here to view a list of other articles written by Ponciano Melo Jr..
Boston avoids sweep, gets one in Miami in Game 4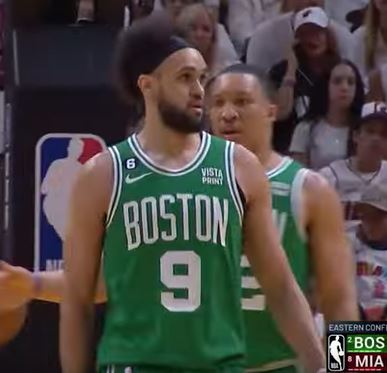 There will be no sweep in the Eastern Conference Finals as the Boston Celtics stole one in Miami in Game 4, 116-99.
Jayson Tatum delivered a huge game of 33 points, 11 rebounds, and seven assists to power the Celtics to Game 5 back in Boston.
They relied on a strong second half to win one with five more Celtics players scoring in double-digits.
Meanwhile, Jimmy Butler scored 29 for the Heat who still hold a commanding 3-1 series lead.
Butler, though, felt no pressure in the post-game interview as he believed Miami can win one on the road to close out the East Finals and set up a showdown to the already-waiting Denver Nuggets.
Denver sweeps Lakers, makes first NBA Finals appearance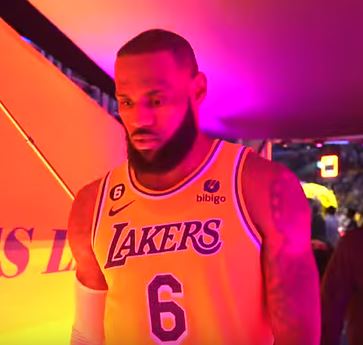 The Denver Nuggets finally reached their first NBA Finals appearance after holding off the Los Angeles Lakers in Game 4 of the West Finals, 113-111.
Nikola Jokic muscled his way for the eventual game-winning bucket as LeBron James missed two potential game-tying shots at the other end.
The former two-time MVP finished with yet another triple-double of 30 points, 14 rebounds, and 13 assists to conquer James' 40-piece performance.
Denver ends the cinderella run of LA via sweep and whil making history for its franchise as well.
Jamal Murray, who had been balling in the series, added 25 markers while Aaron Gordon delivered 22.
The Nuggets will now wait to the winner of the Miami-Boston series where the Heat are up 3-0.
Heat continues to spread as Miami takes 3-0 lead over Boston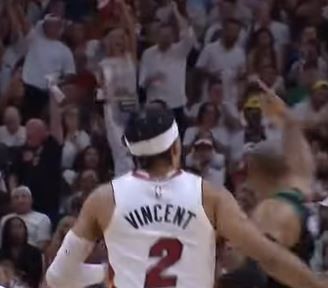 The wildfire Miami Heat have created continued to spread as they took care of business as home for a 128-102 win in Game 3 of the Eastern Conference Finals.
Gabe Vincent and Duncan Robinson, both undrafted, delivered a sensational performance with 29 points and 22 respectively to put Miami one game away from returning to the NBA finals.
Jimmy Butler only had 16 markers but the fire he ignited for the rest of his teammates were burning as the Heat scored 30+ points in all four quarters.
Jayson Tatum and Jalen Brown were shut down with only 14 and 12 points apiece.
Game 4 is on Wednesday, still in Miami.