2019 NBA Finals Diaries: A dynasty under siege and Oracle memories to cherish
https://2019 NBA Finals Diaries: A dynasty under siege and Oracle memories to cherish
If the Golden State Warriors dynasty comes to an end this year, I would really be saddened, just like the rest of DubNation.
But I won\'t be heart-broken or angry. Because the Toronto Raptors, unlike James Harden and those annoying Houston Rockets, are a group of extremely likable guys.
The Raptors have had more than their fair share of misery over the past few years, their hopes repeatedly extinguished by LeBron James and the Cleveland Cavaliers. Wouldn\'t it be nice to see those sorrows being washed away by tears of championship joy?
From a team perspective, the Raptors are a mirror image of the Warriors.
They play tough but not dirty. They shoot lights out. They play hard and for each other.
And they are very well-coached by Nick Nurse, a basketball lifer who catapulted himself from the relative obscurity of the G-League to the NBA\'s brightest stage.
Except for Kawhi Leonard, who arrived in Canada this past off-season bring with him an acquired championship pedigree from San Antonio, the Raptors really don\'t have the megawatt star power of Steph Curry, Klay Thompson, and Kevin Durant.
But veterans such as Kyle Lowry, Serge Ibaka and Marc Gasol, who have a combined 36 years of NBA experience among them are not shying away from the biggest moments, while upstarts such as Paskal Siakam. Norman Powell and Fred VanVleet are holding their own under the immense pressure of chasing their sport\'s ultimate prize.
Heavy favorites to win their third straight title entering this series, the Warriors are now slight underdogs to survive the Raptors onslaught, and perhaps, imminent march to championship glory.
The odds have swung dramatically because the Warriors are wounded and diminished.
Kevin Durant is out with a ruptured Achilles. Kevon Looney is hurtung. DeMarcus Cousins is inconsistent. Andre Iguodala is hobbled. And the rest of the guys, Draymond Green included, are unreliable. flickering on and off like a light bulb that\'s about to burn out of usefulness.
All signs point to a Raptors win in today\'s Game 6. They are stronger. Bigger. Taller. Deeper. Healthier. Fresher. And ultimately, better.
If that happens, it would be great for the Raptors franchise that has yet to taste the champagne since joining the NBA in 1995. It would also be great for those long suffering Canadian sports fans, American\'s neighbor to the north who hadn\'t celebrated a major league title since 1993 when the Toronto Blue Jays captured the World Series.
FOND FAREWELL. Regardless of the outcome of Game 6, this will be the final NBA game at Oracle Arena as the Warriors take their act to a new home floor, the Chase Center in downtown San Francisco, next season.
I feel privileged to have covered this year\'s Finals and get the opportunity to visit the Oracle and experience all the emotions that have wrapped the building.
Against seemingly insurmountable odds, I hope the Warriors win today and give their fans one more memory to relive after 47 years in Oakland.
One last gasp. One last breath.
NBA All-Star 2023 starters revealed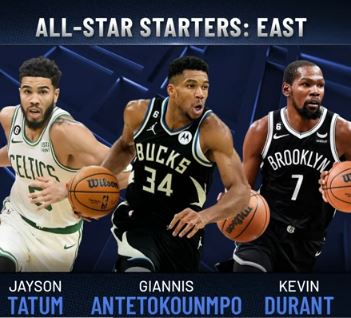 The 10 players from the Eastern and Western Division that will start the 2023 NBA All-Star has been named.
As expected, LeBron James will spearhead another game as he dominated in the voting.
Joining him in the west are Stephen Curry, Luka Doncic, Nikola Jokic and Zion Williamson.
Out East, Giannis Antetokounmpo topped Kevin Durant for being the captain. Jayson Tatum, Kyrie Irving and Donovan Mitchell completed the five.
James and Antetokounmpo will do the honor of drafting hours before the actual ASG.
The festivities in Utah will mark James' 19th All-Star appearances in his 20-year career.
Curry will made his ninth All-Star, fourth for Luka Magic, fifth for the reigning back-to-back MVP Nikola Jokic and second All-Star for Williamson.
The Greek Freak will see his seventh ASG, Durant with his 13th, Kyrie with his eighth, and Tatum and Mitchell both their fourth appearances.
Jordan Poole wins it for the Dubs, goes 2-0 in season series vs. Memphis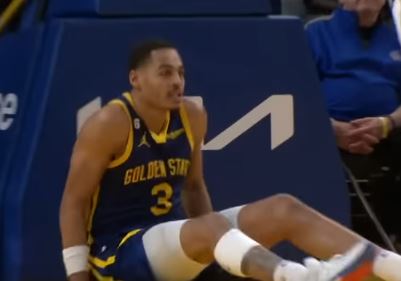 In a much-anticipated NBA rivals week, Golden State faced off against the gritty Memphis Grizzlies and Jordan Poole may have caused Stephen Curry to get ejected, but he bounced back by hitting the game-winner for the Warriors.
Up by two with less than two minutes left, Poole decided to release a 30-footer off a huge offensive rebound by Donte DiVincenzo with still 12 seconds left on the shot clock. Curry, who was asking for the ball, got frustrated on the shot that he threw his mouthpiece on the floor while going back to defense and with the referee in front of him, the two-time MVP got slapped with a technical and ejection in a clutch-situation game.
But despite missing their best player, Klay Thompson made a huge triple off Poole's assist to give the Warriors up with 14.1 seconds. Brnadon Clark though, tied the game off a beautiful setup from Ja Morant.
Thompson missed the following shot but the Warriors grabbed an offensive rebound that paved the way to an inbound game-winning play as Poole went backdoor for the layup.
He finished with 21 points while Thompson had 24. Curry top scored with 34 points.
With the win, the Warriors are now 2-0 against the Grizzlies in the regular season.
Damian Lillard drops fourth 60-point career game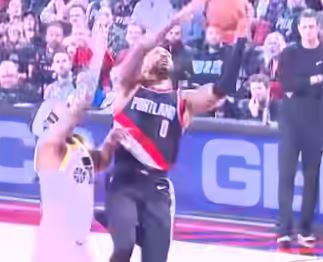 Top 75 of all-time in full display for Damian Lillard as he put on an incredible 60-point show in Portland's 134-124 win over the Utah Jazz.
The Trail Blazer superstar was off to a hot start scoring 26 first half points before becoming even hotter, delivering 24 points in the third quarter alone including a personal 20-point run.
He finished the quarter with 50-piece before adding 10 more in the final frame to reach 60.
This is Lillard's fourth 60-point game of his career and a point shy to tie his career-high.
He is now third in the most 60-point output in NBA history.
Lillard shot the ball very efficiently at 21-out-of-29 field goals. He drained nine triples, dished out eight assists, grabbed seven boards and picked up three steals.
This also marked his 15th 50-point game, proving everyone he is a professional bucket-getter.
Portland's back-to-back wins gave them a 23-25 record, fourth in the Northwest division, 12th overall in the West.