Donaire\'s Legendary Left Hook
By Ponciano Melo – It is definite that Nonito \"The Filipino Flash\" Donaire is a future boxing hall of Fame. Given his accolades throughout his still strong going career, he is much qualified after he decided to retire, maybe sooner or later.
But if there\'s one thing unique about him inside the ring, what is it?
How did he become a four-division world champion?
If I could pick one, I think most of you will agree that it is his great left hook.
Please take note, Donaire is not a southpaw, but his left hook is so lethal.
The latest victim was Nordine Oubaali, the former WBC Bantamweight Champion. Donaire unleashed wrath against him by landing his signature punch that led to a fourth-round knockout and becoming the oldest bantamweight champion in boxing history at 38. He also dealt with Oubaali\'s first professional defeat.
His left hook has a lot of history, including his insane knockout on Vic Darchinyan, left hook that injured Naoya Inoue,
On February 12, 2011, he flat-out destroyed Fernando Montiel with none other than his left hook.
Video highlights: hanap nalang
February 4, 2012 versus Wilfredo Vasquez Jr.
Video highlights: hanap nalang
July 7, 2012 versus Jeffrey Mathebula
Video highlights: hanap nalang
October 13, 2012 versus Toshiaki Nishioka
Video highlights: hanap nalang
December 15, 2012 versus Jorge Arce
Video highlights: hanap nalang
References: https://www.youtube.com/watch?v=2KsTXG_HR0g
Pwedeng i-recycle tong link. Dating video naming kay Donaire about left hook din
NBA All-Star 2023 starters revealed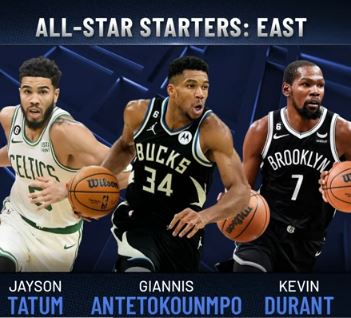 The 10 players from the Eastern and Western Division that will start the 2023 NBA All-Star has been named.
As expected, LeBron James will spearhead another game as he dominated in the voting.
Joining him in the west are Stephen Curry, Luka Doncic, Nikola Jokic and Zion Williamson.
Out East, Giannis Antetokounmpo topped Kevin Durant for being the captain. Jayson Tatum, Kyrie Irving and Donovan Mitchell completed the five.
James and Antetokounmpo will do the honor of drafting hours before the actual ASG.
The festivities in Utah will mark James' 19th All-Star appearances in his 20-year career.
Curry will made his ninth All-Star, fourth for Luka Magic, fifth for the reigning back-to-back MVP Nikola Jokic and second All-Star for Williamson.
The Greek Freak will see his seventh ASG, Durant with his 13th, Kyrie with his eighth, and Tatum and Mitchell both their fourth appearances.
Jordan Poole wins it for the Dubs, goes 2-0 in season series vs. Memphis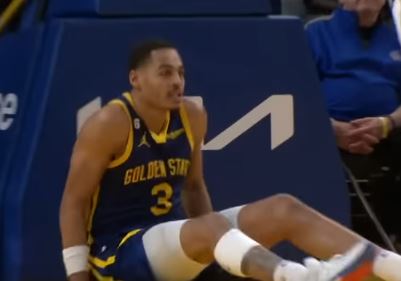 In a much-anticipated NBA rivals week, Golden State faced off against the gritty Memphis Grizzlies and Jordan Poole may have caused Stephen Curry to get ejected, but he bounced back by hitting the game-winner for the Warriors.
Up by two with less than two minutes left, Poole decided to release a 30-footer off a huge offensive rebound by Donte DiVincenzo with still 12 seconds left on the shot clock. Curry, who was asking for the ball, got frustrated on the shot that he threw his mouthpiece on the floor while going back to defense and with the referee in front of him, the two-time MVP got slapped with a technical and ejection in a clutch-situation game.
But despite missing their best player, Klay Thompson made a huge triple off Poole's assist to give the Warriors up with 14.1 seconds. Brnadon Clark though, tied the game off a beautiful setup from Ja Morant.
Thompson missed the following shot but the Warriors grabbed an offensive rebound that paved the way to an inbound game-winning play as Poole went backdoor for the layup.
He finished with 21 points while Thompson had 24. Curry top scored with 34 points.
With the win, the Warriors are now 2-0 against the Grizzlies in the regular season.
Damian Lillard drops fourth 60-point career game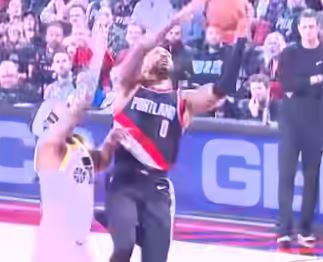 Top 75 of all-time in full display for Damian Lillard as he put on an incredible 60-point show in Portland's 134-124 win over the Utah Jazz.
The Trail Blazer superstar was off to a hot start scoring 26 first half points before becoming even hotter, delivering 24 points in the third quarter alone including a personal 20-point run.
He finished the quarter with 50-piece before adding 10 more in the final frame to reach 60.
This is Lillard's fourth 60-point game of his career and a point shy to tie his career-high.
He is now third in the most 60-point output in NBA history.
Lillard shot the ball very efficiently at 21-out-of-29 field goals. He drained nine triples, dished out eight assists, grabbed seven boards and picked up three steals.
This also marked his 15th 50-point game, proving everyone he is a professional bucket-getter.
Portland's back-to-back wins gave them a 23-25 record, fourth in the Northwest division, 12th overall in the West.