Tyson, Jones slam Mayweather: Belts are \"like drugs.\"
Two legendary boxers have hit back at Floyd Mayweather Jr.'s recent rant about the boxing having too many belts.
Mike Tyson and Roy Jones Jr. stressed their stand on the issue as they will have a special belt as a prize for their exhibition match, the \"Frontline Battle Belt," on November 28.
\"I\'m sorry, but it\'s like drugs. I can\'t say no. You offer me a title, and you got me. It doesn\'t mean nothing to people like him, maybe, but it meant the world to me,\" said Jones.
Meanwhile, Tyson agreed to the statement of his opponent by saying, "he said it all. It\'s like drugs."
For them, championship belts are the driving force of boxing. Of course, all boxers are dreaming to have belts wrapped around their waist.
Having that opportunity to fight in a title match will add motivation to any boxer. Pride and legacy will always be the priority of many boxers, not just the cash involved.
Jones made an example of their era that wanted all the belts while slamming Mayweather as well.
"First of all, I don\'t give a damn what nobody says don\'t get anything to do with me. I do what I do. My business is my business. I don\'t care what nobody else says. This does not have anything to do with him. So he stays over there in his lane do what he do, let me do what I do," he said.
\'Secondly, when I was fighting, I wasn\'t like them. I went and got every belt possible that I could get in my weight class at the time. Mike did the same thing. We come from the old school. We want every belt you got."
"I don\'t care what kind of belt it is. It could be the Joe Patti Seafood belt. I want that. I don\'t care. If you have a belt in my weight class, in my prime, I wanted that. So you think right now, you want to see me perform you put a belt on the line," said Jones on an interview with Showtime. [Quotation from daily online.
Jones and Tyson have taken it seriously. For them, a belt is everything. It has your honor, pride, and legacy.
Lebron James 'Antagonist' Dillon Brooks 39 points slap haters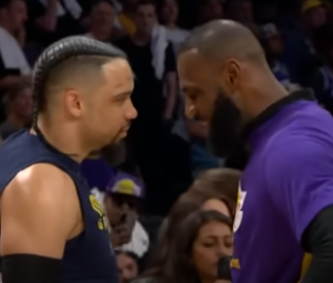 Despite the Warriors and Lakers fans booing Dillon Brooks, the latter erupted with 39 points in the FIBA Cup tournament.
Brooks gets booed in every game due to the fact that the entire pacific is warriors and Lakers die-hard fans.
During the clash with Team USA, Brooks got MVP chants after scoring 39 points that defeated USA for bronze.
It can be recalled that Lebron and Brooks were antagonistic to each other in the NBA when Dillon insulted Lebron for being too old.
If Lebron James joined the national team, Team USA vs Team Canada might be more exciting to see.
Meanwhile, reports said that Dirk Nowitzki is the only player in the last 18 years to score more points (47) in a single World Cup game today than Dillon Brooks (39).
NBA fans blame Stephen Curry, Lebron James et al for Team USA lost in FIBA Cup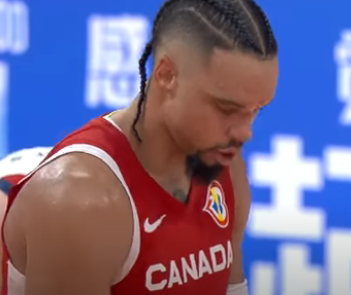 NBA fans are making fun of NBA superstars of Team USA. like Stephen Curry, Lebron James, Leonard Kawhi and others.
Fans believed Team USA had a chance if they played in the FIBA Cup last September 10, 2023.
Team USA lost to Team Germany (113 – 111) and Team Canada (127 – 117) that let them go home without any medal.
It can be recalled that Stephen Curry is interested in joining the national team. But due to health reasons he changed his mind.
34-year-old Curry is entering his 15th season in the league thus he needed to take rest.
On the otherhand, 38 years old Lebron prioritized the NBA instead of the national team.
The Los Angeles Lakers superstar was not interested in representing Team USA in the 2023 World Cup at all according to Basketball USA.
The 12 players who represented Team USA in the FIBA World Cup 2023 are all young players.
Meanwhile, Lebron's enemy Dillon Brooks exploded with 39 points. Shai Gilgeous-Alexander added 31 that led Canada to win the third-place in overtime.
NBA Players pressured : Team Canada never bagged a Medal since 1930's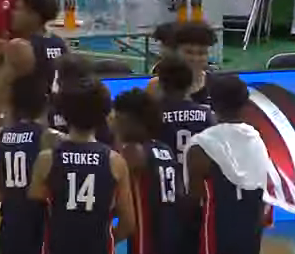 Team Canada has never bagged a medal in the FIBA World Cup since 1936. They have only won a silver in the Berlin Olympics.
Team USA Tyrese (Indiaaa Pacers) said that since the 1930s, Canada has never won a medal so they're coming for them.
Team Canada Kelly Olynyk (UTAH JAZZ), Alexander-Walker (Minnesota Timberwolves) , RJ Barrett (KNICKS), Brooks (Houston Rockets), Luguentz Dort (Oklahoma City Thunder), Gilgeous-Alexander (Oklahoma City Thunder), and Norman Powell (LA Clippers) are all forced to win.
It can be recalled that Team USA lost to Germany and now settled for a bronze medal.
Germany and Serbia clashed for FIBA Cup finals
Meanwhile, both countries are expected to play in the 2024 Summer Olympics in Paris, France..