Proofs that Floyd is the "Money" Mayweather
In this video, it will serve as a proof why Floyd Mayweather is a genius businessman and one of the richest athlete in the world.
In all sports there will always be a fight fans wanted to see and if that happen, millions of viewers will be attracted, in short the flow of money will increase a lot.
But this could only happen if you put two top athletes with each other. Spice it up with rivalry, issues and more, surely it will be a hit.
And one man have it all. The name is Floyd Mayweather Jr.
Today we listed out the Top Five Highest-Grossing Match in the history of Boxing.
And guess what, Mayweather was in four of them!
Let's check it out.
Mike Tyson vs Lennox Lewis
This fight occurred in June 2002 and it was the highest-grossing fight during that time with an estimated worth of $112 million.
The fight was simply not about money but the bad blood running between the two boxers. The fight became personal and both camp even had a brawl before the fight.
The match pushed through and Lennox dominated Tyson to win via eight-round TKO. A spectacular way to end the heated fight.
Floyd Mayweathervs Oscar Dela Hoya
This is when Mayweather started dominating the highest-grossing fights in history. His match against the Golden Boy happened in May 2007 and was worth $136 million.
It was a highly-anticipated match as the tickets were already sell out three hours after it became available.
The fans received a great show as they went head-to-head without giving an inch to one another. Mayweather, however, came out victorious via 12-round split decision.
Mayweathervs Saul 'Canelo' Alvarez
Two unbeaten fighters clashed with each other. This fight bagged $150 million that took place last September 2013.
Majority was in favour of Canelo as the one who will finally tainted the clean slate of the American. However, Mayweather proved why he is among the Greatest of All Time. He toyed the young Mexican and won via majority decision.
Canelo was looking drained of their fight that cost him the fight. Currently, Canelo is the pound-for-pound king of boxing.
Mayweathervs Manny Pacquiao
This is the fight that everyone can be easily remembered. Finally, the boxing match between Floyd Mayweather Jr., and his long-time rival Manny Pacquiao.
Just by the name of those two, it was already expected to gather enormous amount of money. Indeed, the fight was worth $410 million.
The long-awaited fight was dubbed as the Fight of the Century. Again, Mayweather prevailed via decision.
Talks for their rematch are still up in the air but by the looks of it, is impossible to happen.
Mayweathervs Conor McGregor
While the four fights mentioned above were all about real action. The Mayweather-McGregor fight was all about money. And they succeeded. The fight generated $540 million and was reportedly close to reaching $1 billion.
Fans were so hype about the fight due to the fact that McGregor is from the other discipline of combat sports, the mix martial arts. Aside from this were because of their personality. Both like to talk trash.
It was overall, an entertainment. And again. Mayweather was victorious on a 10th-round knockout.
Ruiz downs Ortiz in heavyweight title eliminator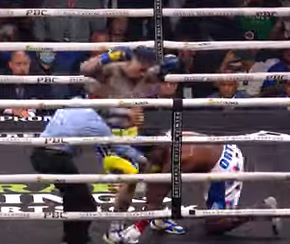 Andy Ruiz Jr. is slowly getting back as a heavyweight title contender after dominating Luis Ortiz.
The former unified heavyweight world champion knocked down "King Kong" Ortiz thrice to win via unanimous decision.
Next in line for the boxer who had one of the greatest upsets in boxing history is to face the former WBC king Deontay Wilder.
Wilder, who has been out of the picture since being destroyed by Tyson Fury in their rematch, will make a return to face Robert Helenius before eventually fighting the Mexican Ortiz.
The Ruiz-Wilder bout is a big chance to happen as both heavyweights are under the boxing promoter Al Haymon.
"We're always looking for great exciting fights we love to give the fans," said Wilder, who was on ringside during the Ruiz-Ortiz clash.
"So if that's what is lined up next, I've got to handle business and after that, we can get it on."
AS SEEN IN BOMBO RADYO
KSI returns and wins two fights in one night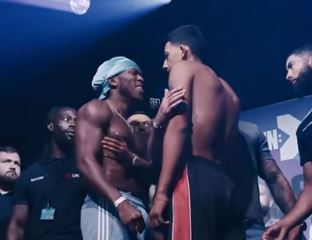 Famous YouTuber KSI returned to the boxing ring after some time and he announced it by dominating two fights in one night.
Olajide Olatunji, his real name, first defeated Swarmz, a Briton rapper who happened to be his friend as well. The match ended in the second round and then after several other matches, KSI stepped up once more to TKO Luis Alcaraz Pineda, a true professional boxer.
But despite these wins KSI's pro record remains at 1-0 as both fights were not given a green light as officially-sanctioned bouts.
One of the undercards in the event was Salt Papi, a Tiktok star that is a Filipino. He won easily in his first fight with an impressive knock out.
Salt Papi became famous for his fake run videos and since then went on a fitness journey that led to his boxing debut
Philippines left with no boxing world champion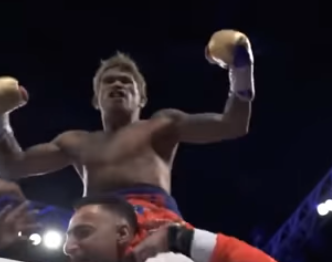 2022 is not yet over but we've already seen the fall of our boxing world champions one
by one.
And with Mark Magsayo failing to defend his WBC featherweight belt in his first title
defense, it left the Philippines with no more current world champion in the sport.
Magsayo went through a heartbreaker with a split decision loss against Rey Vargas of
Mexico.
Rene Mark Cuarto also lost the IBF minimumweight title to another Mexican boxer
named Daniel Valladares.
Just last month, it was Nonito "The Filipio Flash" Donaire who surrendered his WBC
Bantamweight belt to the Japanese Monster Noaya Inoue, his second defeat to the now
unified bantamweight champion.
Jerwin Ancajas likewise suffered the same fate while Johnriel Casimero got his WBO
bantamweightbelt stripped from him due to violation in the weight cut guidelines.
Now, the questions afloat are who will be the next Pinoy champion? Will there be
another Pinoy champ?
With Manny Pacquiao retired from professional boxer after losing his belt as well to
Yordenis Ugas, who will be the next boxer that will give the Philippines back its pride?
Up and coming star Eumir Marcial is on the list after capturing the bronze medal in the
Tokyo Olympics. Magsayo is not off the chart as well as he is still young, it's just a
matter of bouncing back.