NBA PLAYOFFS Clippers stun Warriors in Game 5
OAKLAND — Hold the confetti. Deflate the balloons.
If the Golden State Warriors were to advance to the second round of the these 2019 NBA playoffs, they\'ll have to play a Game 6 as the Los Angeles Clippers are proving to be a tough out.
With a 3-1 series lead entering Wednesday night\'s Game 5 (Thursday AM in Manila), the two-time defending champion Warriors had a golden chance of eliminating the Clippers at the Oracle Arena.
But the Warriors\' best-laid plans suffered a huge setback as the Clippers scored a mighty 129-121 upset in front of a stunned capacity crowd of 19,596. The Clippers\' victory forces a Game this Saturday at the Staples Center in Los Angeles.
The Warriors, who still lead the best-of-7 series 3-2, lost despite getting 45 points from Kevin Durant, 24 from Steph Cury and 22 from Klay Thompson. Although they struggled with their shots, particularly in the second quarter, Golden State manged to make 13 treys and sink 20 of their 22 free throws. They also moved the ball well, accounting for 31 assists.
But Warriors head coach Steve Kerr told reporters that Game 5 was lost on the defensive side.
\"We just did not defend and the playoffs are all about defense,\" Kerr said. \"We weren\'t right from the beginning and gave up 37 points in first quarter,\" he added.
Kerr lamented the fact that the Clippers shot 54.1 percent from the field, making 46 of their 85 field goals.
Facing elimination, the eight-seeded Clippers came to play and not just surrender. Lou Williams led the way with 33 points. Danilo Gallinari had 26 while Patrick Beverley finished with 17 and 14 rebounds. Montrezl Harrell also proved to be quite a load and punished the Warriors with 24 points on 11-of-14 shooting from the field.
Los Angeles, which punched a playoffs ticket by carding a 48-34 regular season record, sustained their offesne with 15 converted triples and 20 made free throws out of 22 attempts. After winning just 22 of 41 road games during the regular season, the Clippers are 2-1 on the road against the Warriors.
Despite the setback, Warriors\' guard Klay Thompson, the other half of Golden State\'s Splash Brothers, remain undeterred.
\"I thought we were going to come out and win tonight, but sometimes life doesn\'t go as planned. We\'re still in a great position with hopefully only 48 minutes to close these guys out. They\'ve been pesky. They\'ve been tough, but now it\'s time to do what we do,\" Thompson said.
The Warriors, the No.1 seed in the Western Conference, will host a Game Sunday on Sunday at the Oracle Arena if the Clippers hold serve on Game 6.
The winner of the Warriors-Clippers series will face the fourth-seeded Houston Rockets in the Western Conference semifinals. The Rockets eliminated the Jazz in their round one showdown, finishing off Utah with a 100-93 win in Game 5 on Wednesday night (Thursday AM in Manila) at the Toyota Center.
Tyson Fury's Dad sets constraints on the AJ-Fury rematch.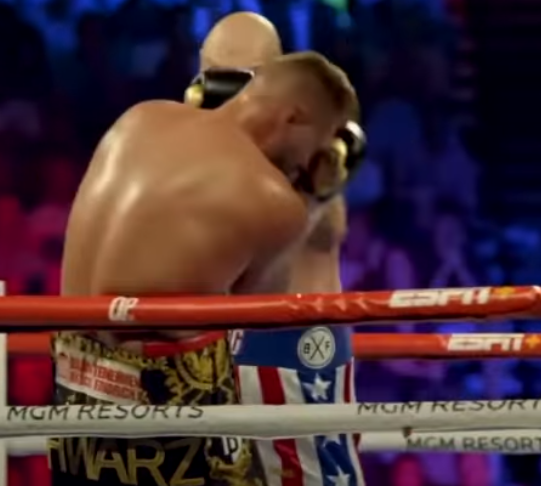 The "Gypsy King" Tyson Fury (33-0-1) is set to rematch with two-time former unified world heavyweight champ Anthony Joshua (26-3-0) next year but Fury's dad pushes Joshua vs Wilder first.
Deontay Wilder, "The Bronze Bomber" (43-2-1), former WBC heavyweight champ, is the first American world heavyweight champ since 2007. He defended his title for 10 times.
But, Wilder lost to Fury twice after their trilogy last October 9, 2021 in an eleventh round KO.
John Fury blurted to The Daily Mail that many boxers are ducking Wilder because they are afraid of him. He added that only his son defeated Wilder twice yet he praised the latter's power.
As of this writing, the said rematch is still unclear however, DAZN reported last September 23, 2023 that promoter Eddie Hearns got an venue offer to stage the fight next year.
Nikola Jokic, Lebron James will kick off the NBA 2023-24 season.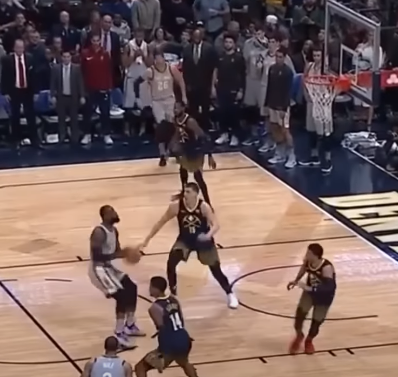 The unfinished business between the Denver Nuggets and Los Angeles Lakers will resume on October 24, 2023 in Ball Arena Denver, Colorado.
It can be recalled that the Nuggets swept the Lakers in the Western Conference. Shockingly, they advanced to their very first NBA Finals in franchise history with 4 – 0 in the Western Conference Finals.
"I know how great he is," James said in the press conference last May 2023 about Jokic.
Jokic won MVP of the Western Conference Finals after he exploded with 27.8 points, 14.5 rebounds and 11.8 assists.
On the other hand, Lebron James felt humiliated with a sweep loss though it is not his first time to be swept. James got swept also last 2018, when his Cavaliers clashed with the Golden State Warriors.
Meanwhile, Lebron is expected to erupt vs the Nuggets.
Pacquiao's alleged illegitimate son Eman Bacosa goes pro.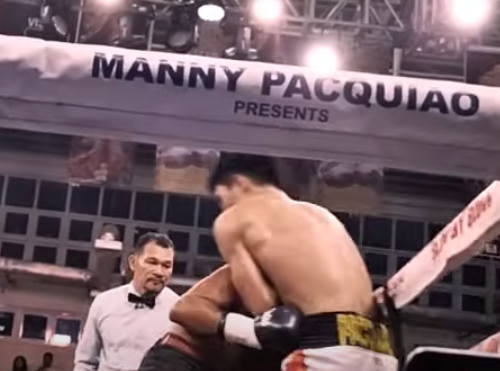 The 19 year old Emmanuel Joseph Bacosa, who is allegedly the son of Manny Pacquiao, fought Jommel Cudiamat in the "Blow by Blow" undercard event last September 23, 2023.
Cudiamat vs Bacosa resulted in a split draw however, as of today, boxing fans are getting hype with Eman's physique as it resembles teenager Pacman.
Fans are comparing Eman to the legitimate sons of Manny who are having a comfortable life. They are expecting Jimuel Pacquiao "legit son" Pacquiao vs Eman "bastard son".
Pacquaio promoted "blow by blow" which is coincidentally the start of his illegitimate son's professional career.
MP Promotions produced Blow by Blow, a weekly sports television boxing program airing on One Sports channel.
As of this writing, Eman's photos beside Pacquaio are spreading online.
Joanna Rose Bacosa is reportedly the mother of Eman.