NBA FINALS: raptors repeat mastery of Warriors
https://manilastandard.net/mobile/article/296867
By Ponciano Melo Jr. 
OAKLAND, California — The Warriors cast was nearly complete albeit for former NBA MVP Kevin Durant on the floor, but the maiden trophy-seeking Toronto Raptors still came out on top to make it one game less towards a date with destiny.
With all-star Klay Thompson making his return after missing his first-ever playoff game due to an injury, and Kevon Looney receiving green light despite fracturing his collarbone, the Golden State looked to bounce back from the unlikely defeat on their home floor, only to spoil a single-digit lead in the first half and eventually bowing to the hungry Raptors from Canada.
Toronto denied the two-game home court advantage at the Oracle Arena with a 105-92 takeaway Saturday, to lead the series 3-1, one more triumph could mean they win it all.
Kawhi Leonard was once again spectacular, putting a game-high 36 points and 11 rebounds including 17 third quarter points that changed the complexion of the game in its entirety at that point.
"Kawhi's two big threes to start the half really changed the whole feel of everybody. Everybody was like, 'Okay, man, we know we are here, let's go,' and we just kind of kept going from those two threes,\" rookie head coach Nick Nurse said after the game.
Leonard also got a boost from Serge Ibaka, who poured 20 points off the bench and Pascal Siakam with 19 markers to claw their way back overcoming a misfiring first half to deal the Warriors its first back-to-back home court defeat in the Finals.
Kyle Lowry as well had 10 points while Fred VanVleet, who lost a tooth and walked off a bloodied face in the fourth quarter after receiving an inadvertent elbow, added eight points with six dimes.
The splash brothers, Thompson and Stephen Curry\'s, 28 and 26 points respectively were put to waste due to the swarming defense and excellent pick-and-roll plays by the Raptors.
Head coach Steve Kerr, however, stayed defiant with their backs against the wall in a familiar, but not-so-good, 1-3 series deficit.
"We have got to lick our wounds tonight. It's a tough loss," he said.
"We're not thinking about winning three games. We're thinking about winning one game, and that's the task. I know we're capable."
The service of the former MVP Kevin Durant will greatly help the Warriors\' cause but that\'s if he will be available to play already in Game 5.
Durant\'s return in game 4 was once again ruled out for the ninth-straight playoff game as his right calf injury recovery has now lasted longer than expected, the team says.
The Raptors will have the chance to finally end the Warriors dynasty and record a first NBA title in Canada come game 5 to be played in Toronto.
Lebron James 'Antagonist' Dillon Brooks 39 points slap haters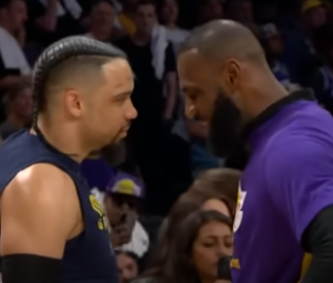 Despite the Warriors and Lakers fans booing Dillon Brooks, the latter erupted with 39 points in the FIBA Cup tournament.
Brooks gets booed in every game due to the fact that the entire pacific is warriors and Lakers die-hard fans.
During the clash with Team USA, Brooks got MVP chants after scoring 39 points that defeated USA for bronze.
It can be recalled that Lebron and Brooks were antagonistic to each other in the NBA when Dillon insulted Lebron for being too old.
If Lebron James joined the national team, Team USA vs Team Canada might be more exciting to see.
Meanwhile, reports said that Dirk Nowitzki is the only player in the last 18 years to score more points (47) in a single World Cup game today than Dillon Brooks (39).
NBA fans blame Stephen Curry, Lebron James et al for Team USA lost in FIBA Cup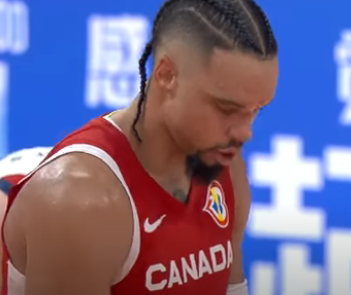 NBA fans are making fun of NBA superstars of Team USA. like Stephen Curry, Lebron James, Leonard Kawhi and others.
Fans believed Team USA had a chance if they played in the FIBA Cup last September 10, 2023.
Team USA lost to Team Germany (113 – 111) and Team Canada (127 – 117) that let them go home without any medal.
It can be recalled that Stephen Curry is interested in joining the national team. But due to health reasons he changed his mind.
34-year-old Curry is entering his 15th season in the league thus he needed to take rest.
On the otherhand, 38 years old Lebron prioritized the NBA instead of the national team.
The Los Angeles Lakers superstar was not interested in representing Team USA in the 2023 World Cup at all according to Basketball USA.
The 12 players who represented Team USA in the FIBA World Cup 2023 are all young players.
Meanwhile, Lebron's enemy Dillon Brooks exploded with 39 points. Shai Gilgeous-Alexander added 31 that led Canada to win the third-place in overtime.
NBA Players pressured : Team Canada never bagged a Medal since 1930's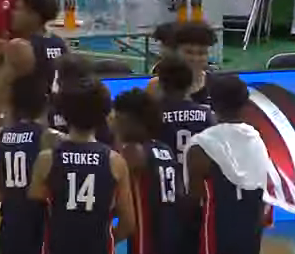 Team Canada has never bagged a medal in the FIBA World Cup since 1936. They have only won a silver in the Berlin Olympics.
Team USA Tyrese (Indiaaa Pacers) said that since the 1930s, Canada has never won a medal so they're coming for them.
Team Canada Kelly Olynyk (UTAH JAZZ), Alexander-Walker (Minnesota Timberwolves) , RJ Barrett (KNICKS), Brooks (Houston Rockets), Luguentz Dort (Oklahoma City Thunder), Gilgeous-Alexander (Oklahoma City Thunder), and Norman Powell (LA Clippers) are all forced to win.
It can be recalled that Team USA lost to Germany and now settled for a bronze medal.
Germany and Serbia clashed for FIBA Cup finals
Meanwhile, both countries are expected to play in the 2024 Summer Olympics in Paris, France..