Manny Pacquiao: The new HERO in Mobile Legend
The famous mobile game Mobile Legends Bang Bang will add a new hero to its app, and it is none other than the fighting senator of the Philippines, Manny Pacquiao.
The new hero will be called "Paquito\" which comes from his surname Pacquiao. It happened when he became the new ambassador of the game.
The skills of Paquito will be all about punches. The combinations of hooks, jabs, and an uppercut. They also call it the Heavenly Fist.
ML teased about it on a newspaper available material where they captioned \"SOMETHING BIG IS COMING.\"
People started talking about it as they heard rumors that the new hero resembled a man with M\'s starting name.
Aside from the hero, it is also reported that a LEGEND skin will be made especially for Paquito. What do you want to see on his skin?
The hero Paquito is also being compared to Chou and Badang, who use fists in the game.
"I already knew Mobile Legends even before they got in touch because my son, Jimuel, plays the game and regularly streams with friends. So why not be a part of what my sons love?\" Pacquiao said.
He, however, has a reminder as to the new ML ambassador.
"Maging responsible lang sa paglalaro. May time sa paglalaro, may time sa sarili, may time sa family. Baka naman wala ng time sa Family. Yun din ang advice ko, kailangan na nama-manage nilang mabuti ang kanilang time," he said.
Pacquiao also confirmed that fee\'s would be collected to the country\'s typhoon victims and his recent endorsement with Globe Telecommunications.
Would you use Paquito when it becomes available in the app?
ML was born in 2016, and it has more than 24 million downloads.
Manny Pacquiao is the New Mobile Legends Philippines Ambassador (philnews.ph)

NBA All-Star 2023 starters revealed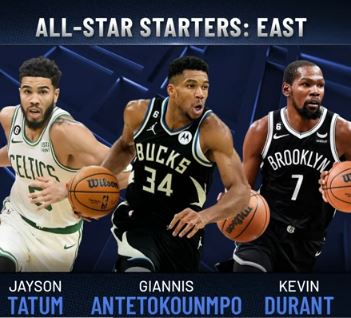 The 10 players from the Eastern and Western Division that will start the 2023 NBA All-Star has been named.
As expected, LeBron James will spearhead another game as he dominated in the voting.
Joining him in the west are Stephen Curry, Luka Doncic, Nikola Jokic and Zion Williamson.
Out East, Giannis Antetokounmpo topped Kevin Durant for being the captain. Jayson Tatum, Kyrie Irving and Donovan Mitchell completed the five.
James and Antetokounmpo will do the honor of drafting hours before the actual ASG.
The festivities in Utah will mark James' 19th All-Star appearances in his 20-year career.
Curry will made his ninth All-Star, fourth for Luka Magic, fifth for the reigning back-to-back MVP Nikola Jokic and second All-Star for Williamson.
The Greek Freak will see his seventh ASG, Durant with his 13th, Kyrie with his eighth, and Tatum and Mitchell both their fourth appearances.
Jordan Poole wins it for the Dubs, goes 2-0 in season series vs. Memphis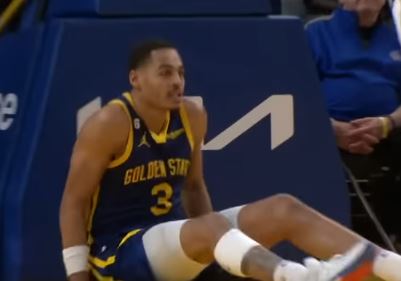 In a much-anticipated NBA rivals week, Golden State faced off against the gritty Memphis Grizzlies and Jordan Poole may have caused Stephen Curry to get ejected, but he bounced back by hitting the game-winner for the Warriors.
Up by two with less than two minutes left, Poole decided to release a 30-footer off a huge offensive rebound by Donte DiVincenzo with still 12 seconds left on the shot clock. Curry, who was asking for the ball, got frustrated on the shot that he threw his mouthpiece on the floor while going back to defense and with the referee in front of him, the two-time MVP got slapped with a technical and ejection in a clutch-situation game.
But despite missing their best player, Klay Thompson made a huge triple off Poole's assist to give the Warriors up with 14.1 seconds. Brnadon Clark though, tied the game off a beautiful setup from Ja Morant.
Thompson missed the following shot but the Warriors grabbed an offensive rebound that paved the way to an inbound game-winning play as Poole went backdoor for the layup.
He finished with 21 points while Thompson had 24. Curry top scored with 34 points.
With the win, the Warriors are now 2-0 against the Grizzlies in the regular season.
Damian Lillard drops fourth 60-point career game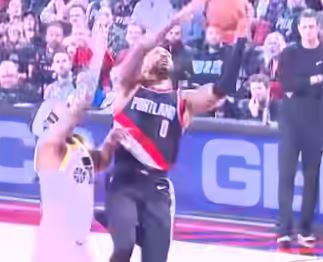 Top 75 of all-time in full display for Damian Lillard as he put on an incredible 60-point show in Portland's 134-124 win over the Utah Jazz.
The Trail Blazer superstar was off to a hot start scoring 26 first half points before becoming even hotter, delivering 24 points in the third quarter alone including a personal 20-point run.
He finished the quarter with 50-piece before adding 10 more in the final frame to reach 60.
This is Lillard's fourth 60-point game of his career and a point shy to tie his career-high.
He is now third in the most 60-point output in NBA history.
Lillard shot the ball very efficiently at 21-out-of-29 field goals. He drained nine triples, dished out eight assists, grabbed seven boards and picked up three steals.
This also marked his 15th 50-point game, proving everyone he is a professional bucket-getter.
Portland's back-to-back wins gave them a 23-25 record, fourth in the Northwest division, 12th overall in the West.