Lakers keep road win streak alive in a gutsy win over Miami
By Bombo Ponciano \'John\' Melo Jr -December 14, 2019 | 4:26 PM
https://www.bomboradyo.com/lakers-keep-road-win-streak-alive-in-a-gutsy-win-over-miami/
MIAMI – The Los Angeles Lakers stretched their road game winning streak to a lucky 13 after nipping the Miami Heat, 113-110, inside the loud American Airlines Arena.
Anthony Davis led the Lakers with his 33-piece performance while grabbing 10 rebounds and three blocks.
LeBron James flirted with a triple-double in an unusual night finishing with 28 points, 12 assists, nine rebounds while committing eight turnovers.
The Miami Heat who was unblemished in their home floor before the game suffered their first home loss on the league-best team.
Down by eight points after a Davis slam with three minutes left, the Heat fired back-to-back treys courtesy of Kendrick Nunn and Duncan Robinson before Davis answered them with his own triple, 110-105.
Davis was then fouled sinking one out of his two charities. After a series of missed shots, Nunn nailed a pull-up three-pointer to make it a one-point game with nine seconds left.
Kentavious Caldwell-Pope was deliberate foul sending him from the line only to make two of out his four attempt with Danny Garcia tapping the ball on the offensive end.
Miami had the chance to send the game into overtime but Jimmy Butler missed a left wing three-pointer after faking out Davis.
The Lakers squeaked out the match by dominating the glass 51-34 despite their 19 turnovers compared to only eight by the Heat.
Butler led the heartbroken Miami with 23 points as Nunn added 16 markers.
They now have a record of 18-7 while the Los Angeles Lakers remains on top with 23-3 win-loss record.
NBA Players pressured : Team Canada never bagged a Medal since 1930's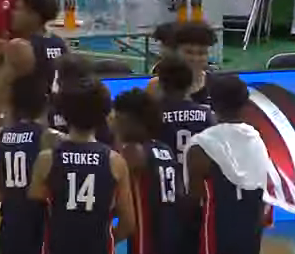 Team Canada has never bagged a medal in the FIBA World Cup since 1936. They have only won a silver in the Berlin Olympics.
Team USA Tyrese (Indiaaa Pacers) said that since the 1930s, Canada has never won a medal so they're coming for them.
Team Canada Kelly Olynyk (UTAH JAZZ), Alexander-Walker (Minnesota Timberwolves) , RJ Barrett (KNICKS), Brooks (Houston Rockets), Luguentz Dort (Oklahoma City Thunder), Gilgeous-Alexander (Oklahoma City Thunder), and Norman Powell (LA Clippers) are all forced to win.
It can be recalled that Team USA lost to Germany and now settled for a bronze medal.
Germany and Serbia clashed for FIBA Cup finals
Meanwhile, both countries are expected to play in the 2024 Summer Olympics in Paris, France..
NBA, House of Highlights stalks "underdog" Rhenz Abando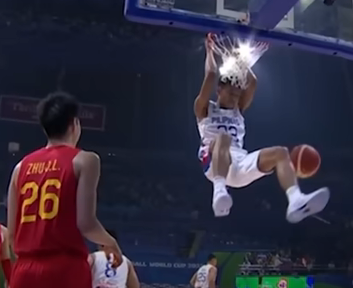 NBA Star Veteran Minnesota Timberwolves forward Kyle Anderson was stunned with Rhenz Abando's play during the (Fédération Internationale de Basketball) FIBA Cup.
Abando's breath-taking highlights spread all over the world via House of Highlights (HOH) based in New York City owned by Warner Bros. Discovery Sports Interactive with 10.5M subscribers.
The HOH captured the blocks, dunks, and rebounds of the underdog Filipino Gilas Guard, They featured Abando's block to NBA Veteran Anderson.
Abando's chemistry with Utah Jazz Point Guard Shooting Guard Jordan Clarkson grab the attention of NBA fans.
"Jordan Clarkson. As simple as that. They went up 20. He hit [four] threes in a row and got some tough buckets. He got going. He's a really good player," China team player and NBA veteran Anderson said as he was shocked with Abandos's block.
Meanwhile, NBA fans are expecting Abando to play in the NBA in the future which Kai Sotto failed to chgioved.
Abando 6'2″ height is the same with Stephen Curry. He has 3 points shooting and impressive defense worthy to join NBA.
Austin Reeves beats Dennis Schroder yet TEAM US out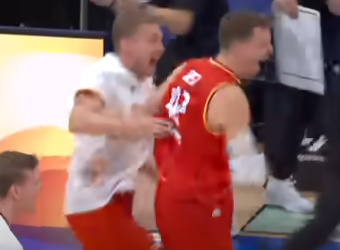 The ex-Lakers player Dennis Schroder 17 points lost to present Lakers shooting guard Austin Reeves 21 points in FIBA semi finals.
Team Germany Dennis Schroder advanced to the FIBA Cup finals vs Serbia but TEAM US settled for Bronze vs Team Canada, 67 – 63.
Reeves' hard work still did not make the team US to the finals.
The Lakers' Reaves 21 points. Anthony Edwards 23 points, Mikal Bridges scored 17 and Jalen Brunson added 15 failed to defeat Germany, 113 – 111.Meanwhile, Andreas Obst 24 points, Franz Wagner 22 points, Daniel Theis 21 points and seven rebounds, Dennis Schroder 17 points and nine assists for Germany made it to the final showdown.
Reeves said that if you give up 113 points in a 40-minute game, you're not going to win many of those.