Canelo mightily comfortable at 175? "Why not another"
By Ponciano "John" Melo Jr.
posted November 04, 2019 at 02:49 pm
Manila Standard Digital
https://manilastandard.net/sports/sports-headlines/310613/-canelo-mightily-comfortable-at-175-why-not-another-.html
LAS VEGAS, Nevada — Canelo "Saul" Alvarez made history as he became only the 25th fighter to have four championship belts in as many divisions.
The 29-year-old Mexican boxing superstar jumped two weight classes to take on light heavyweight defending champion Sergey "The Krusher" Kovalev, but still prevailed victorious in a titular KO win over the Russian.
Canelo is only the second fighter out of Mexico to capture the 175-pound belt after an electrifying 11th-round knockout victory in front of a teeming MGM Grand Arena in Las Vegas. And it seems he isn't done yet taking heads in the heavier divisions.
"[After this] the plan was to go down to 160, 165, but why not – maybe 175 again," he said after the bout.
"It was a very close fight because he was defensive, he was closing up his guard. All he was doing was try to establish points, but we knew what was coming. Inevitably it would come, and everything came out the way we had planned," Canelo said of his opponent.
"The plan overall was patience, that was basically it – to have patience. We knew it was going to be five, six rounds and it was going to take some time for me to get him. But honestly, he's a great fighter. I'm new at this weight, new in this division. Much credit to him, he's a great fighter, but we stuck to our game plan. It was delayed a little bit but overall it was successful," he added.
Asked if he'd make it a trilogy with "GGG" Gennady Golovkin, the pound-for-pound king says he isn't keen on that proposal.
"It's really not a challenge to me. We've fought 24 rounds and I beat him. It's really not a challenge for me, but if it represents business, why not?"
Canelo also said that he's very thankful to his fans, adding that this milestone is just a step in his career and in his "history."
\"All I ask of you, is to be patient because Canelo will make history. That's a guarantee," he said in the interview he delivered in Spanish.
"We have to see what happens. We have to do what's best for us. We have to look for the best fights, the big fights, but obviously give the victories to Mexico."
On the other hand, Kovalev says he simply gassed out.
"I was tired after round 6, because I had my last fight very close to this one, but it's okay, it's a new experience for me. Canelo is really a great champion. A little bit right now, I didn't recover from my last fight. But it's okay. Thanks for the fight Canelo, I have big respect for him. He made history," he said.
Kovalev showed true grit and focus as he stuck to his game plan of keeping his distance and maximizing his reach and height advantage.
"To open my body less, I had to use more jabs, more safe," he said as came up short in a fight that could have seen an interesting result if it went to the scorecards.
"I'll be back. I'll be back much stronger," said Kovalev.
"I know that I can be a unified champion, let's make a unification fight. But nobody wants to fight me in my division. This guy is fresher, he came into my division fresher. He has more stamina, but it's okay, it's a good experience for me," he added.
Meanwhile, Ryan Garcia made mincemeat of Filipino Romero Duno, making quick work of the latter that served as the main undercard of the fight night.
"I feel good. It's kind of what Ii expected. All respect to Duno, he came to fight, he came in shape, he caught me with an overhand right and I took it and from there I knew I could keep taking them and keep coming at him," he said.
Garcia said that when he took Duno's best shot, he knew that he got him.
"Everybody knows he has a big overhand right, he's put a lot of people to sleep with that, and then when I took it, I thought – oh okay, that's what it is. And I felt good from then."
Garcia though, had to keep away from his foe's power shots.
"He came at me like a bull. I was like damn, oh shoot, I was trying to move out the way. I'm like, okay I'm going to start swinging," he shared. "I'm going to let mine go then. I tried to fake with the overhand, jab right, bang bang, and it's over – temple shot."
The young prospect said that he's still learning his overall game alongside his footwork, speed and power.
He says that fighting in the same venue as Canelo was "an honor."
"It makes me feel good just watching him spar, watching him train. He tells me I'm gonna do good, and I feel good."
For now Garcia says he just wants better competition, the more he steps up in weight.
"I'm only 21 and a lot of people forget that. But I'm going at my pace, whatever I feel I'm ready for, I'll take on. Those fights down the line are huge fights, once my team feels I'm prepared. I'm always going to listen to my team," he said.
Ruiz downs Ortiz in heavyweight title eliminator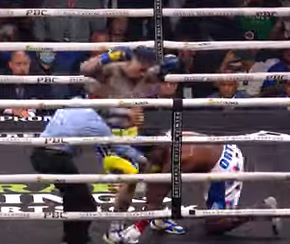 Andy Ruiz Jr. is slowly getting back as a heavyweight title contender after dominating Luis Ortiz.
The former unified heavyweight world champion knocked down "King Kong" Ortiz thrice to win via unanimous decision.
Next in line for the boxer who had one of the greatest upsets in boxing history is to face the former WBC king Deontay Wilder.
Wilder, who has been out of the picture since being destroyed by Tyson Fury in their rematch, will make a return to face Robert Helenius before eventually fighting the Mexican Ortiz.
The Ruiz-Wilder bout is a big chance to happen as both heavyweights are under the boxing promoter Al Haymon.
"We're always looking for great exciting fights we love to give the fans," said Wilder, who was on ringside during the Ruiz-Ortiz clash.
"So if that's what is lined up next, I've got to handle business and after that, we can get it on."
AS SEEN IN BOMBO RADYO
KSI returns and wins two fights in one night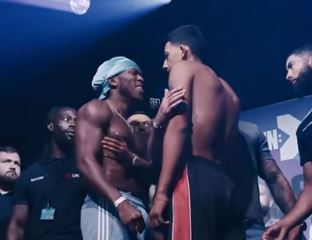 Famous YouTuber KSI returned to the boxing ring after some time and he announced it by dominating two fights in one night.
Olajide Olatunji, his real name, first defeated Swarmz, a Briton rapper who happened to be his friend as well. The match ended in the second round and then after several other matches, KSI stepped up once more to TKO Luis Alcaraz Pineda, a true professional boxer.
But despite these wins KSI's pro record remains at 1-0 as both fights were not given a green light as officially-sanctioned bouts.
One of the undercards in the event was Salt Papi, a Tiktok star that is a Filipino. He won easily in his first fight with an impressive knock out.
Salt Papi became famous for his fake run videos and since then went on a fitness journey that led to his boxing debut
Philippines left with no boxing world champion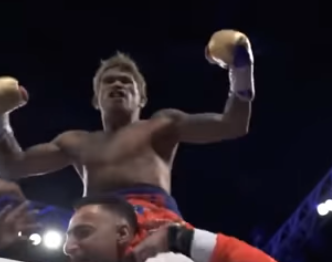 2022 is not yet over but we've already seen the fall of our boxing world champions one
by one.
And with Mark Magsayo failing to defend his WBC featherweight belt in his first title
defense, it left the Philippines with no more current world champion in the sport.
Magsayo went through a heartbreaker with a split decision loss against Rey Vargas of
Mexico.
Rene Mark Cuarto also lost the IBF minimumweight title to another Mexican boxer
named Daniel Valladares.
Just last month, it was Nonito "The Filipio Flash" Donaire who surrendered his WBC
Bantamweight belt to the Japanese Monster Noaya Inoue, his second defeat to the now
unified bantamweight champion.
Jerwin Ancajas likewise suffered the same fate while Johnriel Casimero got his WBO
bantamweightbelt stripped from him due to violation in the weight cut guidelines.
Now, the questions afloat are who will be the next Pinoy champion? Will there be
another Pinoy champ?
With Manny Pacquiao retired from professional boxer after losing his belt as well to
Yordenis Ugas, who will be the next boxer that will give the Philippines back its pride?
Up and coming star Eumir Marcial is on the list after capturing the bronze medal in the
Tokyo Olympics. Magsayo is not off the chart as well as he is still young, it's just a
matter of bouncing back.