The Mistress of Evil is back to declare
https://manilastandard.net/spotlight/299503/the-mistress-of-evil-is-back-to-declare-love-doesn-t-always-end-well-.html
By Ponciano \"John\" Melo Jr.
If you love the month of June for giving us a magic carpet ride in a whole new world with Aladdin and Jasmine, kids and kids at heart might be loving more the month of July. Walt Disney Studio has released a number of movies and movie trailers for this month.
There is the success of Tom Holland\'s SpiderMan: Far From Home, and on July 17, 2019, The Lion King\'s live action will be showing on different parts of the world. Avengers: Endgame will also be hitting again the theaters on the midweek of the month with additional clips!
It is not yet over! Fans of the Disney Princesses movies will be the happiest as the movie trailer of Mulan is also released! Reports from the sources were also spreading that Halle Bailey will be the next Ariel, the mermaid – turned – human who will fall in love with a human.
Wait, there is more! The Mistress of Evil is back as the Walt Disney has given some sneak peeks of the highly anticipated second installment of Maleficent and the internet can\'t get enough with it!
Led by Hollywood actress Angelina Jolie, Maleficent: The Mistress of Evil will be showcasing the true powers of the queen as she fights for her principles, rights, and beliefs.
Jolie will be reprising her role as the mother of Princess Aurora, played by Elle Fanning, who is about to tie a knot with Harris Dickinson\'s character, Prince Philip.
The intense between the Queen Ingrith (Michelle Pfeiffer) and Maleficent started in a banquet scene when the Queen told Jolie\'s character, \"You have done an admirable job going against your own nature to raise this child. But now, she will finally get the love of a real mother. Tonight I consider Aurora my own."
Ads by AdAsia
This triggers another war between humans and fairies and will pull apart Aurora and her mother to opposing sides \"causing them to question whether they can be truly family.\"
The movie also showcases a story of a princess whether if she will listen to her mother or she will fight for her love.
Maleficent also told Aurora that \"love doesn\'t always end well\" which made Aurora think to rebel more.
The trailer also shows a plot twist telling that Maleficent is not the only fairy who has horns who will be played by Chiwetel Ejiofor saying, \"You spent years caring for a human. Now, it\'s time to care for your own.\" This twist might trigger the pain and anger within Maleficent which will make her fight more.
This can also bring us to the background of Maleficent\'s family and the reason why she ended in the world of Moors.
Maleficent: The Mistress of Evil will also be cast by Sam Riley, Imelda Staunton, Juno Temple, Lesley Manville, and Ed Skrein under the directing skills of Joachim Rønning.
Get ready for a one hell round of magic and spells with Maleficent: The Mistress of Evil which will be showing next year on March.
Ruiz downs Ortiz in heavyweight title eliminator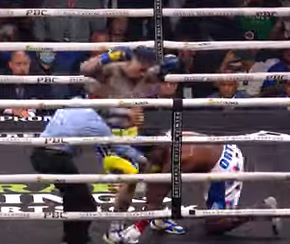 Andy Ruiz Jr. is slowly getting back as a heavyweight title contender after dominating Luis Ortiz.
The former unified heavyweight world champion knocked down "King Kong" Ortiz thrice to win via unanimous decision.
Next in line for the boxer who had one of the greatest upsets in boxing history is to face the former WBC king Deontay Wilder.
Wilder, who has been out of the picture since being destroyed by Tyson Fury in their rematch, will make a return to face Robert Helenius before eventually fighting the Mexican Ortiz.
The Ruiz-Wilder bout is a big chance to happen as both heavyweights are under the boxing promoter Al Haymon.
"We're always looking for great exciting fights we love to give the fans," said Wilder, who was on ringside during the Ruiz-Ortiz clash.
"So if that's what is lined up next, I've got to handle business and after that, we can get it on."
AS SEEN IN BOMBO RADYO
KSI returns and wins two fights in one night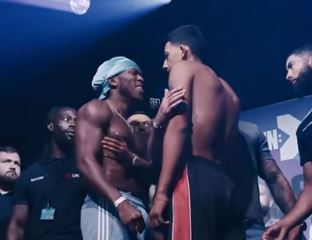 Famous YouTuber KSI returned to the boxing ring after some time and he announced it by dominating two fights in one night.
Olajide Olatunji, his real name, first defeated Swarmz, a Briton rapper who happened to be his friend as well. The match ended in the second round and then after several other matches, KSI stepped up once more to TKO Luis Alcaraz Pineda, a true professional boxer.
But despite these wins KSI's pro record remains at 1-0 as both fights were not given a green light as officially-sanctioned bouts.
One of the undercards in the event was Salt Papi, a Tiktok star that is a Filipino. He won easily in his first fight with an impressive knock out.
Salt Papi became famous for his fake run videos and since then went on a fitness journey that led to his boxing debut
Philippines left with no boxing world champion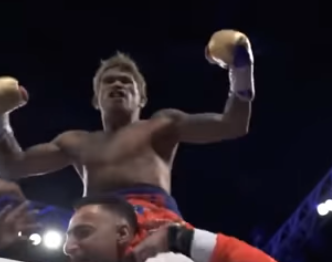 2022 is not yet over but we've already seen the fall of our boxing world champions one
by one.
And with Mark Magsayo failing to defend his WBC featherweight belt in his first title
defense, it left the Philippines with no more current world champion in the sport.
Magsayo went through a heartbreaker with a split decision loss against Rey Vargas of
Mexico.
Rene Mark Cuarto also lost the IBF minimumweight title to another Mexican boxer
named Daniel Valladares.
Just last month, it was Nonito "The Filipio Flash" Donaire who surrendered his WBC
Bantamweight belt to the Japanese Monster Noaya Inoue, his second defeat to the now
unified bantamweight champion.
Jerwin Ancajas likewise suffered the same fate while Johnriel Casimero got his WBO
bantamweightbelt stripped from him due to violation in the weight cut guidelines.
Now, the questions afloat are who will be the next Pinoy champion? Will there be
another Pinoy champ?
With Manny Pacquiao retired from professional boxer after losing his belt as well to
Yordenis Ugas, who will be the next boxer that will give the Philippines back its pride?
Up and coming star Eumir Marcial is on the list after capturing the bronze medal in the
Tokyo Olympics. Magsayo is not off the chart as well as he is still young, it's just a
matter of bouncing back.