Roach not impress with Thurman, praises Pacquiao`s aggression
posted June 21, 2019 at 04:00 pm
Manila Standard Digital
https://manilastandard.net/sports/fightsports/298000/roach-not-impress-with-thurman-praised-pacquiao-s-aggression.html
By Ponciano Melo Jr.
In preparation for the upcoming Manny Pacquiao (61-7-2, 39 KOs) and Keith Thurman (29-0, 22 KOs, 1 NC) welterweight clash, Pacquiao's trainer-coach Freddie Roach is not impressed on how WBA Super World Welterweight Champion\'s perform in his previous bout.
Thurman\'s last fight was against the tough Josesito Lopez, where Thurman won with a majority decision after returning from a long 22-month lay off due to elbow and hand surgeries.
But the win did not come easy for the undefeated Thurman as Lopez pressured the champion from the get-go and rocked Thurman many times before \"One Time\" shook off the rust and poised out a victory.
A very vocal Roach showed his confidence that Thurman is way past of his old self.
"I thought I was watching a four-round fighter," Roach told BoxingScene.com following a Pacquiao training session this week at Roach's Wild Card Boxing Club.
"I mean, he was terrible. He didn't do well at all. But if you look at each of his last three fights, he's faded in each one. I'm not sure if it's the biceps injury or whatever they're crying about, but he hasn't looked good in the three fights that I've seen and I do have his last seven fights on tape."
It would be the biggest fight for the 30-year-old Thurman and this fight will bring him back in the boxing spotlight, and for Pacquiao, he would be the first one to blemish the immaculate record of the WBA Super Welterweight champ and prove that he still can compete on a high level.
Pacquiao\'s longtime trainer and coach felt that the Filipino fighter had this one in the bag after seeing PacMan\'s renewed aggression as they enter the last phase of their training for the July 20 showdown at the MGM Grand Garden Arena.
Roach praised the never-changing work ethic of the fighting-senator, as Pacquiao showing no sign of slowing down in their training sessions.
For the past weeks, the American pugilist has been very consistent on throwing verbal jabs directed to Pacquiao as he vowed to \"crucify\" the boxing icon and put an end to the legendary career of Pacquiao.
Asked for his response to Thurman\'s retirement jibes, Pacquiao replied: \"My response to him is we\'ll see. He is giving me more motivation and determination to work hard and prove that it\'s not true.
\"I\'m happy that he\'s saying that … It gives me inspiration to focus and do the best that I can in the ring.\"
But reports from PacMan\'s camp contrasted with the 40-year-old eight-division champion interview, as Former Australian heavyweight Justin Fortune, Pacquiao\'s strength and conditioning coach, said the Filipino icon was \"pissed off\" by his opponent\'s tirades.
\"Manny\'s motivated for all his fights and this time, this guy\'s talking a little trash,\" Roach said.
\"So that helps. Manny has got a bit upset. He wants to win this one a little bit more than usual.\" he added.
Pacquiao has carried that sense of grievance into his training sessions. For the first time in several fights, Roach is wearing protective padding around his torso during his mitt sessions.
\"I was really happy I brought my padding back,\" Roach said. \"Because I haven\'t worn that in a while. I came up with that idea because I didn\'t want Manny to go easy on his opponents.
\"We went 10 rounds yesterday and he was really happy to see I had the padding. It does make a difference. I want him going full blast on the mitts.\" With AFP
Tyson Fury's Dad sets constraints on the AJ-Fury rematch.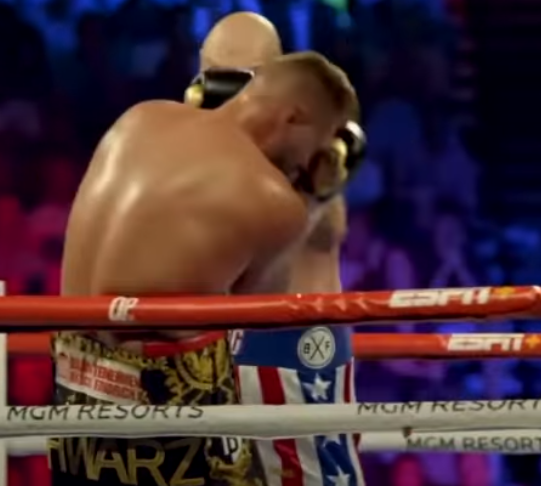 The "Gypsy King" Tyson Fury (33-0-1) is set to rematch with two-time former unified world heavyweight champ Anthony Joshua (26-3-0) next year but Fury's dad pushes Joshua vs Wilder first.
Deontay Wilder, "The Bronze Bomber" (43-2-1), former WBC heavyweight champ, is the first American world heavyweight champ since 2007. He defended his title for 10 times.
But, Wilder lost to Fury twice after their trilogy last October 9, 2021 in an eleventh round KO.
John Fury blurted to The Daily Mail that many boxers are ducking Wilder because they are afraid of him. He added that only his son defeated Wilder twice yet he praised the latter's power.
As of this writing, the said rematch is still unclear however, DAZN reported last September 23, 2023 that promoter Eddie Hearns got an venue offer to stage the fight next year.
Pacquiao's alleged illegitimate son Eman Bacosa goes pro.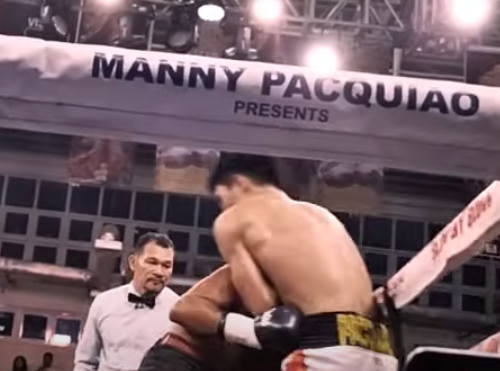 The 19 year old Emmanuel Joseph Bacosa, who is allegedly the son of Manny Pacquiao, fought Jommel Cudiamat in the "Blow by Blow" undercard event last September 23, 2023.
Cudiamat vs Bacosa resulted in a split draw however, as of today, boxing fans are getting hype with Eman's physique as it resembles teenager Pacman.
Fans are comparing Eman to the legitimate sons of Manny who are having a comfortable life. They are expecting Jimuel Pacquiao "legit son" Pacquiao vs Eman "bastard son".
Pacquaio promoted "blow by blow" which is coincidentally the start of his illegitimate son's professional career.
MP Promotions produced Blow by Blow, a weekly sports television boxing program airing on One Sports channel.
As of this writing, Eman's photos beside Pacquaio are spreading online.
Joanna Rose Bacosa is reportedly the mother of Eman.
Crawford no match to Canelo at 168 – GGG coach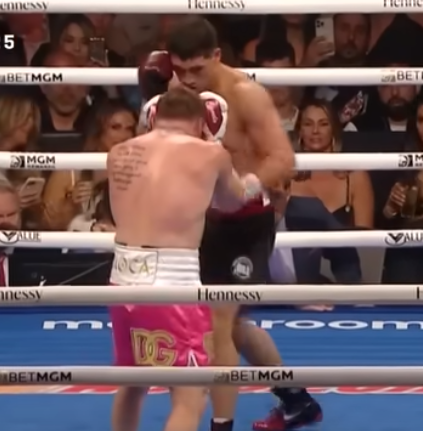 Gennady Golovkin (GGG) former coach Abel Sanchez presumes that Terrence Crawford is no match to Mexican pound for pound king Canelo Alvarez at 168 lbs.
In an interview by Fight Hub TV last October 9, 2023, GGG coach said that Canelo vs Crawford is laughable.
Sanchez is a Mexican-American trainer and coach of Gennady Golovkin who is the real rival of Canelo.
Undefeated and undisputed welterweight champion Crawford (40 – 0) has defeated his rival Errol Spence jr. last July 29, 2023 but still not enough to win vs Canelo.
It can be recalled that both Crawford and Spence Jr. have been craving to fight the Mexican superstar but to no avail.
When asked if Crawford can win vs Canelo, Sanchez said: "He [Crawford] gets beat. So, in my opinion, that's not a good fight."