Pacquiao hopes Thurman goes \"toe-to-toe\" with him on fight night
By Ponciano \"John\" Melo Jr.
posted July 18, 2019 at 03:23 pm
Manila Standard Digital
https://manilastandard.net/sports/pacquiao-mania/300205/pacquiao-hopes-thurman-goes-toe-to-toe-with-him-on-fight-%20night.html?fbclid=IwAR1WzW6HW6y56bWiEM4J3LZj_eeOO1T-q-qxf5wplKe_rBy_cksLuYklNG8
LAS VEGAS, Nevada — Manny Pacquiao and Keith Thurman Jr. faced members of the media for their last press conference before their fight on July 20 (July 21 Manila time).
The blockbuster night of action to be beamed live to 120 million viewers worldwide, will feature Pacquiao for the 15th time inside the MGM Grand Arena as he battles undefeated Thurman to unify their world welterweight belts.
And with the way his opponent has talked smack since the fight was announced, the eight-division world champion hopes the crass younger American can walk the walk.
"I'm expecting a good fight and a toe-to-toe on Saturday would be good," said Pacquiao in the final press con.
"It's been a while since the last time I've experienced something like that," he added on his closing message.
Thurman, who earlier said that he would be the one to "retire Manny," saying at one point that he'll "crucify" the Filipino boxing legend, added another verbal jab in the media presentation.
"Manny's a legend, but I'm not here to pat on the back, im here to fight him," the 30-year-old American said explaining his mental games with the fighting Senator.
Ads by AdAsia
"It puts me in the fight mode to know that he won't do nothing with them little T-rex arms. He's about to get beat up. I get to punch a senator and he's gonna feel it," said the unblemished fighter who sits at a 29-0 record with 22 KOs.
But Manny, being Manny, was all smiles while his opponent continued the word war which seems only Thurman is the solitary party.
"For me nothing is personal I just have to do my job," said Pacquiao in response to the latest badmouthing from Thurman.
"And in my job as a fighter I have to prove that I can still fight event at 40. That's why I'm so motivated for this fight," he added.
For his part, Thurman ended the press con with some additional shade.
"This is a tremendous fight, its one of the biggest fights of the year. Don't be suprised if Manny Pacquiao goes night night," he said.
To which Pacquiao replied, "Well it's easy to say but I don't know if it's easy to do in the ring."
Weigh-in for the fight will be held 4 AM Manila time.
Fil-Brit Tiktoker Salt Papi puts the world on notice in latest boxing win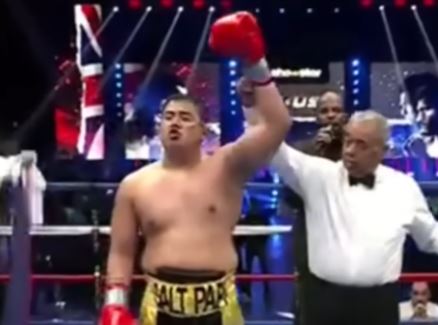 A new Pinoy boxer rising? This might be the case if we're talking about the social media influencers-turned-boxers.
Tiktoker Salt Papi was the talk of the town after his vicious knockout against Youtube sensation Josh Brueckner, a taller, bigger guy.
The Filipino-British boxer landed a perfect right hand right to the face of Brueckner in just the first round.
They served as an undercard of KSI vs. Faze Temperr.
Pro boxer and rising star Ryan Garcia was impressed by Salt Papi's victory convincing him that the latter should next face Jake Paul.
They are both undefeated in boxing and all of their wins are via knockout.
After the victory, Salt Papi posted a video clip on his Instagram showing a comparison of his knockout to Manny Pacquiao's iconic KO hit to Ricky Hatton.
The post received lots of comments including boxing's only eight-division world champion himself.
Pacquiao wrote on the comment "Pwede Na" in which Salt Papi replied with a "salamat po."
| | |
| --- | --- |
| | ReplyReply allForward |
Jon Jones takes on Ciryl Gane in heavyweight championship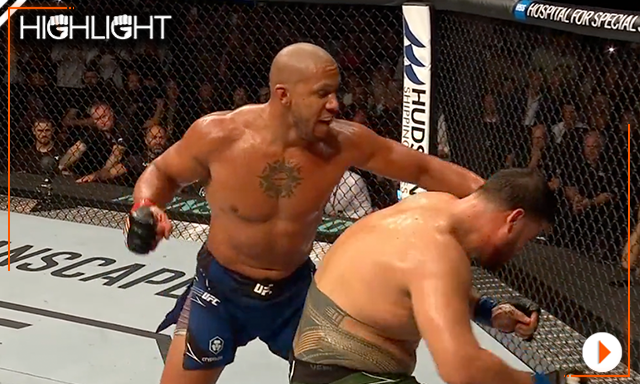 In a shocking announcement, Jon Jones confirmed that he is upping his division and will fight Ciryl Gane for the UFC heavyweight world title.
The development was leaked after T-Mobile Arena displayed an ad about the fight that was later on confirmed by the former pound-for-pound UFC fighter.
"Day one of four, just a few weeks out from my first heavyweight championship against Ciryl Gane," said Jones.
The mega-bout is expected to take place on UFC 285. Jones has been out of the Octagon for almost three years now.
"Absolutely, I'd love to have Henry [Cejudo] coaching me for this Ciryl Gane fight. Hopefully our schedules can align and we can get on the same page," said Jones.
"Bones" Jones at the age of 35 has a record of 26 wins, one loss, zero draw, and one no contest.
While Gane has 11 wins, one loss and zero draw.
The date of the collision has yet to be announced as of writing.
Pacquiao signs with Rizin for more exhibition bout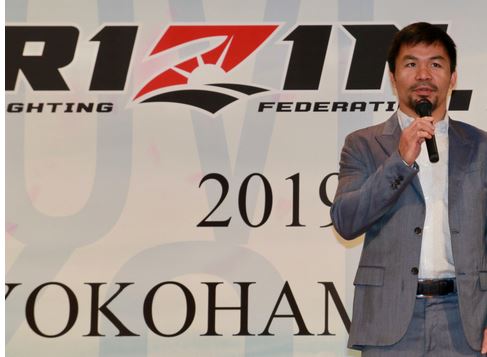 Boxing's only eight-division world champion Manny Pacquiao is set to continue putting on the gloves as he surprisingly signed under Japan's Rizin Fighting Federation.
The MMA promotion made it known through their social media with details that the former Philippine senator will box this year against a Japanese fighter.
He recently came back to the sport with an exhibition bout against Korean YouTuber DK Yoo.
"I have agreed with Rizin to fight next year. That date will soon be announced, and also my opponent that Rizin will choose, and I'm open and excited to fight a Japanese fighter," Pacquiao said during his signing with Rizin.