NBA PLAYOFFS — Clippers stun Warriors in Game 5
OAKLAND — Hold the confetti. Deflate the balloons.
If the Golden State Warriors were to advance to the second round of the these 2019 NBA playoffs, they\'ll have to play a Game 6 as the Los Angeles Clippers are proving to be a tough out.
With a 3-1 series lead entering Wednesday night\'s Game 5 (Thursday AM in Manila), the two-time defending champion Warriors had a golden chance of eliminating the Clippers at the Oracle Arena.
But the Warriors\' best-laid plans suffered a huge setback as the Clippers scored a mighty 129-121 upset in front of a stunned capacity crowd of 19,596. The Clippers\' victory forces a Game this Saturday at the Staples Center in Los Angeles.
The Warriors, who still lead the best-of-7 series 3-2, lost despite getting 45 points from Kevin Durant, 24 from Steph Cury and 22 from Klay Thompson. Although they struggled with their shots, particularly in the second quarter, Golden State manged to make 13 treys and sink 20 of their 22 free throws. They also moved the ball well, accounting for 31 assists.
But Warriors head coach Steve Kerr told reporters that Game 5 was lost on the defensive side.
\"We just did not defend and the playoffs are all about defense,\" Kerr said. \"We weren\'t right from the beginning and gave up 37 points in first quarter,\" he added.
Kerr lamented the fact that the Clippers shot 54.1 percent from the field, making 46 of their 85 field goals.
Facing elimination, the eight-seeded Clippers came to play and not just surrender. Lou Williams led the way with 33 points. Danilo Gallinari had 26 while Patrick Beverley finished with 17 and 14 rebounds. Montrezl Harrell also proved to be quite a load and punished the Warriors with 24 points on 11-of-14 shooting from the field.
Los Angeles, which punched a playoffs ticket by carding a 48-34 regular season record, sustained their offesne with 15 converted triples and 20 made free throws out of 22 attempts. After winning just 22 of 41 road games during the regular season, the Clippers are 2-1 on the road against the Warriors.
Despite the setback, Warriors\' guard Klay Thompson, the other half of Golden State\'s Splash Brothers, remain undeterred.
\"I thought we were going to come out and win tonight, but sometimes life doesn\'t go as planned. We\'re still in a great position with hopefully only 48 minutes to close these guys out. They\'ve been pesky. They\'ve been tough, but now it\'s time to do what we do,\" Thompson said.
The Warriors, the No.1 seed in the Western Conference, will host a Game Sunday on Sunday at the Oracle Arena if the Clippers hold serve on Game 6.
The winner of the Warriors-Clippers series will face the fourth-seeded Houston Rockets in the Western Conference semifinals. The Rockets eliminated the Jazz in their round one showdown, finishing off Utah with a 100-93 win in Game 5 on Wednesday night (Thursday AM in Manila) at the Toyota Center.
Also published in PhilBoxing.com
Lebron James 'Antagonist' Dillon Brooks 39 points slap haters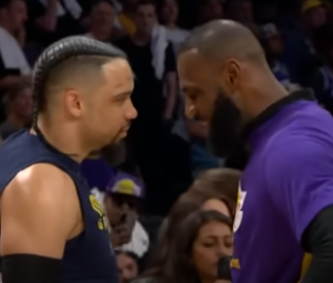 Despite the Warriors and Lakers fans booing Dillon Brooks, the latter erupted with 39 points in the FIBA Cup tournament.
Brooks gets booed in every game due to the fact that the entire pacific is warriors and Lakers die-hard fans.
During the clash with Team USA, Brooks got MVP chants after scoring 39 points that defeated USA for bronze.
It can be recalled that Lebron and Brooks were antagonistic to each other in the NBA when Dillon insulted Lebron for being too old.
If Lebron James joined the national team, Team USA vs Team Canada might be more exciting to see.
Meanwhile, reports said that Dirk Nowitzki is the only player in the last 18 years to score more points (47) in a single World Cup game today than Dillon Brooks (39).
NBA fans blame Stephen Curry, Lebron James et al for Team USA lost in FIBA Cup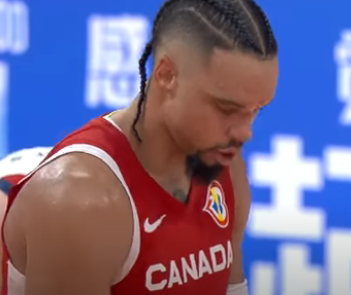 NBA fans are making fun of NBA superstars of Team USA. like Stephen Curry, Lebron James, Leonard Kawhi and others.
Fans believed Team USA had a chance if they played in the FIBA Cup last September 10, 2023.
Team USA lost to Team Germany (113 – 111) and Team Canada (127 – 117) that let them go home without any medal.
It can be recalled that Stephen Curry is interested in joining the national team. But due to health reasons he changed his mind.
34-year-old Curry is entering his 15th season in the league thus he needed to take rest.
On the otherhand, 38 years old Lebron prioritized the NBA instead of the national team.
The Los Angeles Lakers superstar was not interested in representing Team USA in the 2023 World Cup at all according to Basketball USA.
The 12 players who represented Team USA in the FIBA World Cup 2023 are all young players.
Meanwhile, Lebron's enemy Dillon Brooks exploded with 39 points. Shai Gilgeous-Alexander added 31 that led Canada to win the third-place in overtime.
NBA Players pressured : Team Canada never bagged a Medal since 1930's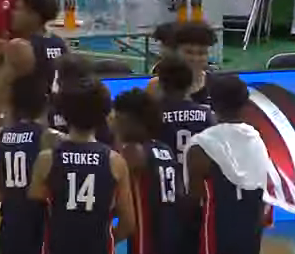 Team Canada has never bagged a medal in the FIBA World Cup since 1936. They have only won a silver in the Berlin Olympics.
Team USA Tyrese (Indiaaa Pacers) said that since the 1930s, Canada has never won a medal so they're coming for them.
Team Canada Kelly Olynyk (UTAH JAZZ), Alexander-Walker (Minnesota Timberwolves) , RJ Barrett (KNICKS), Brooks (Houston Rockets), Luguentz Dort (Oklahoma City Thunder), Gilgeous-Alexander (Oklahoma City Thunder), and Norman Powell (LA Clippers) are all forced to win.
It can be recalled that Team USA lost to Germany and now settled for a bronze medal.
Germany and Serbia clashed for FIBA Cup finals
Meanwhile, both countries are expected to play in the 2024 Summer Olympics in Paris, France..