NBA players believe the season will start in December
By Bombo Ponciano \'John\' Melo Jr -November 5, 2020 | 7:20 AM
https://www.bomboradyo.com/nba-players-believe-the-season-will-start-in-december/
Anonymous NBA players are reportedly in the firm belief that the next NBA season will start on December 22, three days before Christmas.
There are two possible dates for the next start, December and January.
However, players believe that the December start is now inevitable.
On a layout released by the Athletics NBA;
Training camps will start on December 1.
Three-four preseason games will be played.
72 regular-season games. Instead of the usual 82.
14 back-to-back games. For all the 30 teams.
Regular season to end in May.
Playoffs will start in the third week of May.
July is the target finish of the season.
Meanwhile, if the league decided to start in January, regular-season games will be cut to 60.
According to some sources, they are already convinced that more than two-thirds of the teams have a three-month layoff for the December start.
Long enough to prepare for the upcoming season.
However, what will be the consolation to those teams who reached the playoffs, especially the finals?
While there is still no answer to this, I'm sure that the NBA will adjust and consider these teams.
The players association and the NBA are expected to vote for the format and date of the start.
Sadly, fans will still be prohibited from entering arenas as the pandemic has yet to end.
Other teams are slowly getting back in training. The Golden State Warriors, who were eliminated in the regular season, started early on their camp. They even held a scrimmage once.
For other concerns, teams are quickly making their move to acquire players available in the market.
The Philadelphia 76ers are reportedly trying to pursue James Harden of the Houston Rockets despite the team not issuing any trade sign.
Jrue Holiday of the New Orleans Pelican has become available for trade as well.
The upcoming season is already a big task for both the league and the players.
But despite being under pressure, they are working together to start another journey after overcoming the successful NBA bubble.
NBA Players pressured : Team Canada never bagged a Medal since 1930's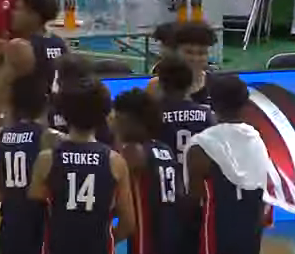 Team Canada has never bagged a medal in the FIBA World Cup since 1936. They have only won a silver in the Berlin Olympics.
Team USA Tyrese (Indiaaa Pacers) said that since the 1930s, Canada has never won a medal so they're coming for them.
Team Canada Kelly Olynyk (UTAH JAZZ), Alexander-Walker (Minnesota Timberwolves) , RJ Barrett (KNICKS), Brooks (Houston Rockets), Luguentz Dort (Oklahoma City Thunder), Gilgeous-Alexander (Oklahoma City Thunder), and Norman Powell (LA Clippers) are all forced to win.
It can be recalled that Team USA lost to Germany and now settled for a bronze medal.
Germany and Serbia clashed for FIBA Cup finals
Meanwhile, both countries are expected to play in the 2024 Summer Olympics in Paris, France..
NBA, House of Highlights stalks "underdog" Rhenz Abando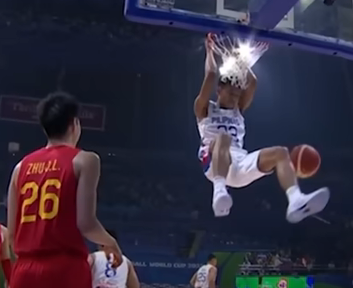 NBA Star Veteran Minnesota Timberwolves forward Kyle Anderson was stunned with Rhenz Abando's play during the (Fédération Internationale de Basketball) FIBA Cup.
Abando's breath-taking highlights spread all over the world via House of Highlights (HOH) based in New York City owned by Warner Bros. Discovery Sports Interactive with 10.5M subscribers.
The HOH captured the blocks, dunks, and rebounds of the underdog Filipino Gilas Guard, They featured Abando's block to NBA Veteran Anderson.
Abando's chemistry with Utah Jazz Point Guard Shooting Guard Jordan Clarkson grab the attention of NBA fans.
"Jordan Clarkson. As simple as that. They went up 20. He hit [four] threes in a row and got some tough buckets. He got going. He's a really good player," China team player and NBA veteran Anderson said as he was shocked with Abandos's block.
Meanwhile, NBA fans are expecting Abando to play in the NBA in the future which Kai Sotto failed to chgioved.
Abando 6'2″ height is the same with Stephen Curry. He has 3 points shooting and impressive defense worthy to join NBA.
Austin Reeves beats Dennis Schroder yet TEAM US out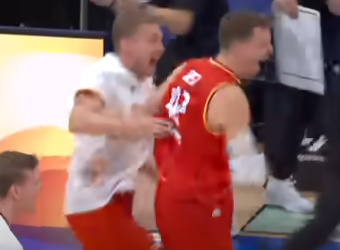 The ex-Lakers player Dennis Schroder 17 points lost to present Lakers shooting guard Austin Reeves 21 points in FIBA semi finals.
Team Germany Dennis Schroder advanced to the FIBA Cup finals vs Serbia but TEAM US settled for Bronze vs Team Canada, 67 – 63.
Reeves' hard work still did not make the team US to the finals.
The Lakers' Reaves 21 points. Anthony Edwards 23 points, Mikal Bridges scored 17 and Jalen Brunson added 15 failed to defeat Germany, 113 – 111.Meanwhile, Andreas Obst 24 points, Franz Wagner 22 points, Daniel Theis 21 points and seven rebounds, Dennis Schroder 17 points and nine assists for Germany made it to the final showdown.
Reeves said that if you give up 113 points in a 40-minute game, you're not going to win many of those.