Is Pacquiao regaining legendary punching power?
By Ponciano Melo Jr.
posted June 21, 2019 at 09:43 pm
Manila Standard Digital
https://manilastandard.net/sports/pacquiao-mania/298011/is-pacquiao-regaining-legendary-punching-power-.html
A month to go until his bout with undefeated Keith Thurman Jr. in Las Vegas, Nevada, Manny Pacquiao is turning it up a notch in his training.
Expect the level of intensity in his preparation towards the July 20 fight to become higher by the day. Just ask Hall of Fame coach Freddie Roach.
"I brought back my chest protector today," Roach told Forbes in an interview on Wednesday.
"I gave it up for a couple of years because I was tired of peeing blood when I got hit. But I'm going to wear it again. I can bring out a better Manny Pacquiao," he added when he talked with the US Magazine.
Giving Pacquiao six rounds of mitt work, the training camp continued at Hills of Griffith Observatory where Roach manned the helm of the ongoing cam which is now focusing on the conditioning of the eight-division world champion who sits at a 61-7-2 win-loss-draw record with 39 KOs.
Thurman on the other hand, is leaning on a 29-0, 22 KO-record.
The fighting Senator from the Philippines will look to hand Thurman's first pro defeat and is eyeing to do come up with a plan to floor the younger champion within the six remaining weeks left for training before the action goes down at the MGM Grand.
The scheduled training camp was shortened compared to the traditional eight weeks.
Ads by AdAsia
But Roach and Pacquiao don\'t seem to mind it at all as it seems like they've gotten back to their groove and normal routines.
Going back, the two had a professional hiatus from each other\'s company as the legendary duo, responsible for many of the memorable fights in boxing\'s recent history, separated for a brief while when Pacquiao challenged Lucas Matthysse, coming out victorious with a stoppage- the first one for the Pacman in nine years.
Roach said prior to July of last year\'s Pacquiao-Matthysse fight that the fighting pride of the Philippines could not juggle the huge political responsibility of being a Senator while still slugging it out as a professional boxer.
But, it seems, there was no love lost between the two.
In fact, with the body protector on, Roach feels Pacquiao will not hold back in this crucial stretch of training.
"He hits hard, but it's OK," Roach said. "I want to do my job the best I can. I think Manny really missed [the body protector]. He hit me in the stomach before, and he wasn't hitting me as hard. He missed it. And it carries over to the fight. He wasn't hitting his opponents as hard. That's why I'm going to sacrifice my body."
Could we be seeing a more powerful Pacman come fight night?
Tyson Fury's Dad sets constraints on the AJ-Fury rematch.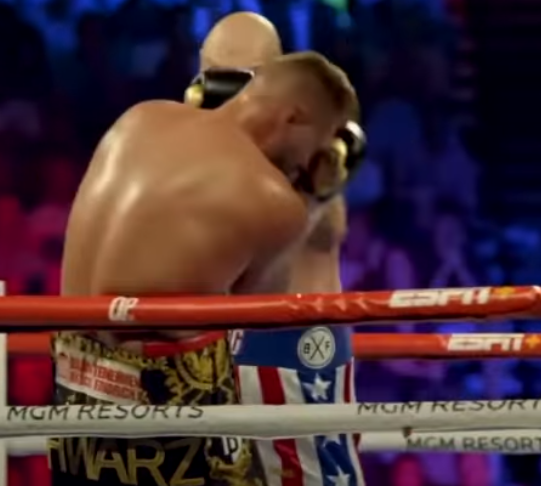 The "Gypsy King" Tyson Fury (33-0-1) is set to rematch with two-time former unified world heavyweight champ Anthony Joshua (26-3-0) next year but Fury's dad pushes Joshua vs Wilder first.
Deontay Wilder, "The Bronze Bomber" (43-2-1), former WBC heavyweight champ, is the first American world heavyweight champ since 2007. He defended his title for 10 times.
But, Wilder lost to Fury twice after their trilogy last October 9, 2021 in an eleventh round KO.
John Fury blurted to The Daily Mail that many boxers are ducking Wilder because they are afraid of him. He added that only his son defeated Wilder twice yet he praised the latter's power.
As of this writing, the said rematch is still unclear however, DAZN reported last September 23, 2023 that promoter Eddie Hearns got an venue offer to stage the fight next year.
Pacquiao's alleged illegitimate son Eman Bacosa goes pro.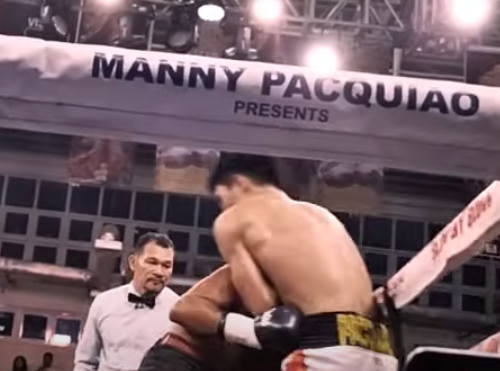 The 19 year old Emmanuel Joseph Bacosa, who is allegedly the son of Manny Pacquiao, fought Jommel Cudiamat in the "Blow by Blow" undercard event last September 23, 2023.
Cudiamat vs Bacosa resulted in a split draw however, as of today, boxing fans are getting hype with Eman's physique as it resembles teenager Pacman.
Fans are comparing Eman to the legitimate sons of Manny who are having a comfortable life. They are expecting Jimuel Pacquiao "legit son" Pacquiao vs Eman "bastard son".
Pacquaio promoted "blow by blow" which is coincidentally the start of his illegitimate son's professional career.
MP Promotions produced Blow by Blow, a weekly sports television boxing program airing on One Sports channel.
As of this writing, Eman's photos beside Pacquaio are spreading online.
Joanna Rose Bacosa is reportedly the mother of Eman.
Crawford no match to Canelo at 168 – GGG coach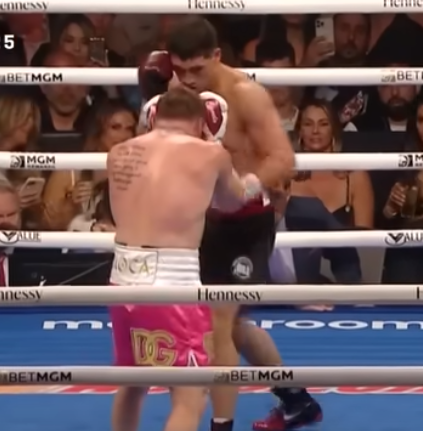 Gennady Golovkin (GGG) former coach Abel Sanchez presumes that Terrence Crawford is no match to Mexican pound for pound king Canelo Alvarez at 168 lbs.
In an interview by Fight Hub TV last October 9, 2023, GGG coach said that Canelo vs Crawford is laughable.
Sanchez is a Mexican-American trainer and coach of Gennady Golovkin who is the real rival of Canelo.
Undefeated and undisputed welterweight champion Crawford (40 – 0) has defeated his rival Errol Spence jr. last July 29, 2023 but still not enough to win vs Canelo.
It can be recalled that both Crawford and Spence Jr. have been craving to fight the Mexican superstar but to no avail.
When asked if Crawford can win vs Canelo, Sanchez said: "He [Crawford] gets beat. So, in my opinion, that's not a good fight."