Humble Pacquiao maintains discipline, grace despite Thurman badmouthing
By Ponciano Melo Jr.
posted June 26, 2019 at 03:55 pm
Manila Standard Digital
https://manilastandard.net/sports/pacquiao-mania/298417/humble-pacquiao-maintains-discipline-grace-despite-thurman-badmouthing.html
LOS ANGELES, California — Manny Pacquiao took some time off his grueling and intensifying training here as the Filipino boxing icon chose to rest for a day before heading back into the gym to continue the crucial stretch in his six-week training camp.
The temporary lull is no cause for concern though as the Pacman is putting in some extra work for his upcoming bout come July 20th against undefeated American boxer Keith Thurman Jr. at the MGM Grand in Las Vegas, Nevada.
Thurman, who vowed \"to retire\" Pacquiao during a media gathering back in May has not winded down his trash talking.
Asked about the brass younger American fighter and how this could affect the bout in any way, Pacquiao, being the Pacquiao which we have grown accustomed to, just merely shrugged it off.
In an interview with Pacquiao in his LA mansion, the eight-division world champion chose to let Thurman\'s sly comments slide, even amid reports released saying that the remarks made by Thurman pissed Pacquiao off.
But instead of fighting back, the Filipino champ put the insult behind to be his motivation.
"I don't want to get engaged with it, that's too much negativity," said Pacquiao during the intimate interview at his home.
pacman thurman
Pacquiao with the writer in his mansion in LA. Precilyn Melo
Ads by AdAsia
The fighting Senator insisted that their side is more focus on dealing with Thurman on the ring rather than getting involved in a verbal fight.
He added that maintaining his discipline on and off the ring will help him win against Thurman as they continue to practice their game plan.
Pacquiao also assured that their match will bring excitement for everyone especially his home nation fans.
"This will be a great fight because first, he's younger. He is way younger than me. He is the champion and undefeated at 29 wins, 22 knockouts and no loss. This will be a great fight and it will test my skill in the ring,\" Pacquiao said.
Going to the tale of the tape, Pacquiao, known for his insane quickness and power has a record of 61 wins including 39 knockouts with seven defeats and two draws. Thurman has 22 KOs in 29 wins with no defeat and one no-contest is known for his heavy punches.
And in their fight in July, Pacquiao will bank on his experience to put down \"One Time\" in Las Vegas.
For now, the Pacman rests, but expect him to grin it hard when the training camp shifts into a whole other gear in the days to come.
Jokic-Murray make history as Nuggets take Game 3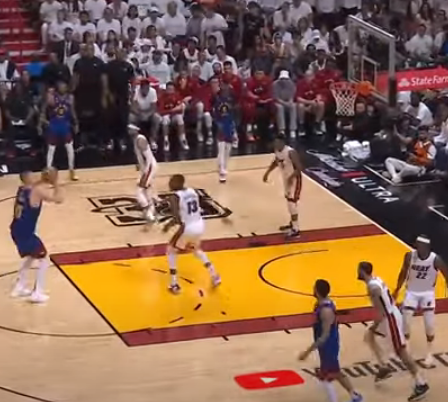 Nikola Jokic and Jamal Murray just became the first duo to score 30+ points and 10+ assists in an NBA Finals game to lead Denver to a 109-94 win in Game 3 for a 2-1 series lead.
The two stars also finished with a triple-double as Jokic grabbed 21 big boards and Murray with 10.
Aside from this, the Joker personally made history for himself becoming the first player to record a 30-20-10 triple-double in the Finals.
The big win put them ahead and stole a win on the road against Miami.
Jimmy Butler had 28 points for the Heat while Bam Adebayo added 22 on a losing effort.
They have a chance to even the series once again come Game 4.
Kyrie Irving courts LeBron James to join Mavs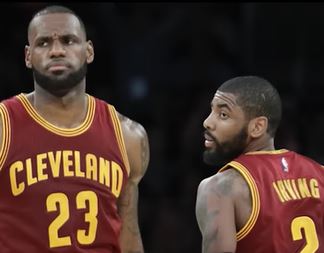 The stories have been LeBron wanting Kyrie back, but this time it's Irving who reached out for James to come to Dallas and play for the Mavericks next season.
The report quickly went viral as a potential Irving-James-Doncic big three is now brewing.
However, trading for LeBron James means a lot of players and future round picks for the Mavericks.
It can be recalled that James was trying to land Irving in the middle of the regular season, but the Lakers failed to do so which put Irving from Brooklyn to Dallas to team up with Luka Doncic.
They fell short of a playoff spot and now it seems Irving seriously wants another trophy with him luring James for an epic reunion.
Whether this fails due to the cap restriction, Irving could still possibly join James in the Lakers as LA looks to revamp its squad despite reaching the conference finals after a slow start of the season.
Gabe Vincent comes through as Miami even Finals series with Denver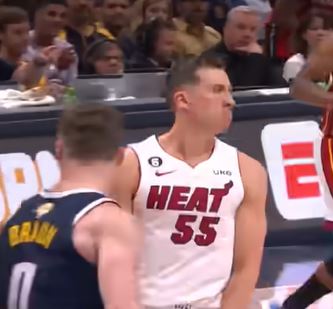 The Miami Heat were confident and they proved us why as they steal Game 2 from Denver to even the NBA Finals series at 1-1.
Undrafted Gabe Vincent played a huge game for Miami finishing with a team-high 23 points while Jimmy Butler and Bam Adebayo chipped in 21 points apiece.
Duncan Robinson only had 10 points, but all came in the fourth quarter to rally the Heat.
Meanwhile, Nikola Jokic dropped 41 points for the Nuggets but they lost, Denver is 0-3 in the postseason when Jokic scored 40+ points.
Jamal Murray was only contained by the Heat with only 18 points.
Game 3 will be in Miami.