GAME 2 OPENING NIGHT DISASTER: CURRY\'S FINGER CRUSHED AND HARDEN\'S EYES POKED
The rivalry between Golden State Warriors and Houston as Game 2 started off with two of their top players getting injured. Such a huge coincidence. Steph Curry got a dislocated middle finger while James Harden got poked in the eye in the first 6 minutes of the playoffs.
Definitely not a good start for the warring teams.
Yet Curry comes back with his 2 fingers taped together.
Amidst the drama in the first half of the playoffs, hundreds of excited and weary fans cheer on, many of whom are Filipinos rooting for their favorite NBA stars.
Elizabeth Ferrer, a Filipina who has been staying in Oakland for 18 years, excitedly talked about her first time to watch the playoffs along with her son, Gilbert. A solid GSW fan, Ferrer talked about a sad experience last Christmas when she paid $600 for a game ticket to watch a play between the Warriors and the Lakers only to see her beloved team lose.
Yet, this did not stop Ferrer from continuing to support the Curry and his team. Wearing a trademark GSW Jersey, Ferrer was all smiles when she said, "Go Warriors! I hope you win!"
The game went to a power play as Curry continued to play with his mangled finger and Harden slowly walked off court with his gouged eye.
Draymond Green, who coincidentally injured Lebron James\' eye last year, also got to do the eye-poking-challenge again to Harden this time around.
With a mixture of sympathy and anxiety from the crowd, Filipinos went on to root for their respective teams. Their mere presence in the Oracle Arena tonight went to show how much Filipinos adore basketball as the sport also made them feel closer to their homecourts thousands of miles away.
Meanwhile, Green was seen to be checking in on Harden during timeout. Correspondent Ponciano Melo Jr. witnessed firsthand how badly Harden reacted as he feltdownright cheated when his eyes got \"accidentally\" injured by his opponent.
The incident was certainly no laughing matter as Green had to go back in the locker room. Rockets' coach Mike D\'Antoni described that their lead player\'s eyeball was bleeding.
Yet, this did not stop Harden from going back to the court and rejoining the battlefield.
13 turnovers in the first half of the power play.
The cynical side of the crowd was anxious that Harden might start blaming his eyes for not shooting properly. Meanwhile, all sympathy went out to Curry and Harden as they continue to wrestle the game night against all odds.
On the officiating side of the story, both fans and players worried about game officiating in tonight\'s gameScott Foster, the NBA referee that had a not-so-awesome history with the Rockets\' lead players. Fortunately enough, despite the minor drama with Curry and Harden, the referees had managed to behave this time.
It was indeed a tough game night not just for the WArriors and Rockets, but also for the cheering crowd.
With a 10-point lead, the Warriors still manage to own the court during second half.
Nike also went wild as t-shirts and jerseys were reportedly sold at a low price of $20 to a skyrocketing rate of $200! The latter being the ones worn by the players themselves.
Some Filipinos who were interviewed were happily saying that they $3,000 on a ring side seat. One Filipino even mentioned shedding $300.00. All this goes to show how far Pinoys are willing to go just to see their favorite stars tear down the arena live.
In the meantime, Kevin Duran aced the game by leading the Warriors with a staggering 29 points supported by Klay THompson with 21 points. Curry, despite a minor dislocation, still scored a whooping 20 points in a balanced WArrior attack. All starting five finished with double figures in scoring.
On the other side of the court, Harden led the Rockets in a losing effort with 29 points with his bloody eyes and all.
The Warriors prevailed with a final of 115-109 and now takes the 2-0 series lead before they head back to Houston for Game 3.
Warriors, Lakers get crucial win in tight West playoff race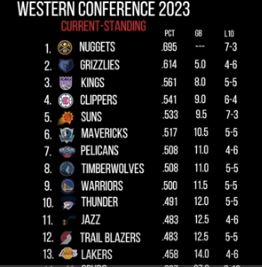 In a tight race for a playoff spot in the West, the defending champions Golden State Warriors and the lost glory-seeking Los Angeles Lakers got much-needed wins.
The Warriors outplayed the visiting Philadelphia 76ers for their third straight win behind Jordan Poole's 33 points. Steph Curry and Klay Thompson combined for 50 points to counter Joel Embiid's 46-piece.
With the dub, they currently sit at the sixth spot with a 39-26 win-loss record.
Meanwhile, the Los Angeles Lakers went .500 (37-37) for the first time this season after defeating the Oklahoma City Thunder, 116-111. Anthony Davis top scored with 37 points along with 15 boards.
LA is now at the eighth spot but still in a pressure pack position as teams below them are just one-game behind.
There are less than 20 games left before the regular season comes to an end.
Paul George out for the rest of regular season due to knee sprain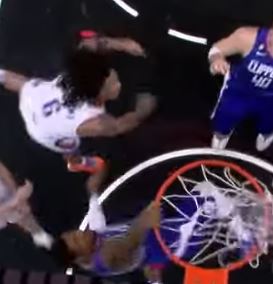 It started with a jaw-dropping 360 slam off a baseline cut by Paul George. Indeed a crazy play that sent the internet into a frenzy but several plays later another thing went viral involving George, a nasty knee injury in a rebound play.
Seen in the replays was the awkward position of his knee when he landed. He was carried out in the game and after further evaluation he will miss two to three weeks due to a sprained right knee.
It means George will not be available to play in the remainder of the regular season but there are hopes he will be ready in some time in the playoffs if his reevaluation is good.
Currently, his Los Angeles Clippers are fifth in the West but there's no safe place yet as the standing in their conference is very tight from no. 5 up to the 10th spot.
With this, the Clippers will rely heavily on Kawhi Leonard and their newly-required Russell Westbrook to finish the regular season in a good spot.
Lonzo Ball to potentially miss second straight NBA season due to third knee surgery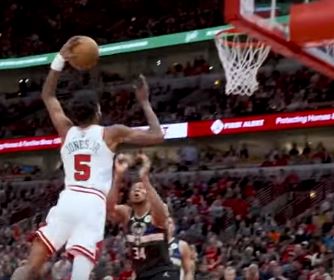 Lonzo Ball is on a tough road returning to the NBA after confirming another necessary surgery on his left knee.
The 25-year old Chicago guard has not played since January 14, 2022 due to his knee injury and now he will undergo a knife for the third time in the same knee.
He expressed frustration but clings on to a full recovery.
"My main focus has been on returning to the court and getting to a place where I can rejoin my teammates. This has been a frustrating process, but I'm confident these next steps are the best path forward," he said in a statement.
This reminds many of Derrick Rose's injury-ridden career with the Bulls. However, Ball, just like Rose, continues to persevere to overcome the setback.
"The support of my family, friends, fans and medical staff throughout my recovery is what keeps me moving forward. I can't wait to get back to what I love doing most – playing basketball."