Donald Trump surprises Evander Holyfield vs. Vitor Belfort Press conference
Just before the fight of Holyfield and Belfort, last September 11 2021 by Triller, ex-president Donald Trump shocked the fighters and its spectators as he called LIVE in the presscon.
Trump recalled his friendship with Holyfield and his family.
Accoding to Trump, Holyfield is not just has a great shape but a good heart.
"I love great fighters and great fights," Trump said in the release. "I look forward to seeing both this Saturday night and sharing my thoughts ringside. You won't want to miss this special event."
Trump has long had a connection to combat sports stemming back to when he hosted early UFC events at his casinos in Atlantic City, N.J. During his presidency,
Roger Federer's tennis legacy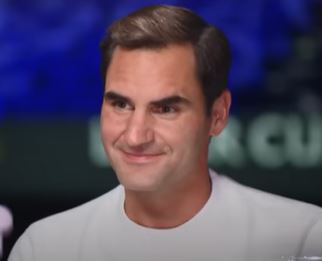 August 8th, 1981 marked the birth of Roger Federer. He plays tennis professionally and
is Swiss. He held the top spot in the global rankings for the Association of Tennis
Professionals (ATP) for 310 weeks, including a record 237 straight weeks, and five
times at the end of the year. His 103 ATP singles titles rank second all-time, and they
include 20 Grand Slam singles titles, an Open Era record eight Wimbledon men's
singles trophies, an Open Era record five US Open men's singles titles, and an
unprecedented six year-end titles.
Federer played during a time when the Big Three—Rafael Nadal, Novak Djokovic, and
him—dominated men's tennis. The Big Three are regarded by some as the three most
successful men's tennis players of all time. Federer, a former ball boy and the 1998
Wimbledon junior champion, won his first major singles championship at Wimbledon in
2003 at the age of 21.
Federer participated in 21 of the 28 major singles finals between 2003 and 2009. In
2004, 2006, and 2007, he won the ATP Finals, three of the four majors, and five US
Open and Wimbledon championships in a row. At the 2009 French Open, where he had
lost to Nadal three times in a row, he completed the career Grand Slam. Nadal
remained his major competitor until 2010. He broke Pete Sampras' record of 14 major
men's singles victories at Wimbledon in 2009 at the age of 27.
Federer won two majors between 2010 and 2016 but, despite spending the most of the
early 2010s in the Top 3, his supremacy on grass and hard courts was halted by the
rise of Djokovic and Nadal. He and Stan Wawrinka guided Switzerland to their first
Davis Cup victory in 2014 during this time, following their Olympic doubles gold medal
triumph at the 2008 Beijing Olympics. In the Olympic singles competition at the 2012
London Games, Federer also took home a silver medal after losing to Andy Murray.
Following a six-month break to recover from knee surgery in late 2016, Federer
returned to tennis with a bang, defeating Rafael Nadal in the 2017 Australian Open final
and capturing his eighth singles championship at the 2017 Wimbledon Championships.
Federer, 36, became the oldest ATP world No. 1 and the first person to win 20 major
singles titles at the 2018 Australian Open. He announced his retirement from
competitive tennis in September 2022 after winning the Laver Cup later that month.
Federer is an all-court player with versatility, and tennis fans adore him for what they
believe to be his effortlessness. As a junior, he struggled with self-control but later
improved his on-court conduct, winning the Stefan Edberg Sportsmanship Award 13
times in the process. He earned a record-setting five victories in the Laureus World
Sportsman of the Year competition. He contributed significantly to the development of
the Laver Cup team tournament in addition to competing. He also engages in charitable
work.
He started the Roger Federer Foundation, which supports underprivileged children in
southern Africa, and has raised money in part through the Match for Africa exhibition
series. He consistently ranks among the top ten highest-paid athletes in all sports and
was the top athlete with $100 million in endorsement income in 2020.
Celtics suspend head coach Ime Udoka for a season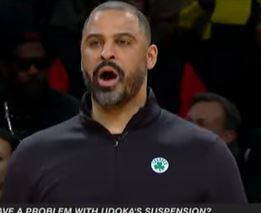 After leading the Boston Celtics to the NBA Finals, head coach Ime Udoka will now face a major setback after the Boston Celtics suspended him for the 2022-23 NBA season, effective immediately.
Udoka reportedly violated the team policies by having an intimate relationship with a female staff of the franchise.
The development was first reported by Adrian Wojnarowski of ESPN.
With the decision handed down, Udoka released an apology.
"I want to apologize to our players, fans, the entire Celtics organization, and my family for letting them down. I am sorry for putting the team in this difficult situation, and I accept the team's decision. Out of respect for everyone involved, I will have no further comment," he said.
Assistant coach Joe Mazzulla will now be the interim head coach of Boston for a season.
Jazz trade Bogdanovic for Olynyk, Lee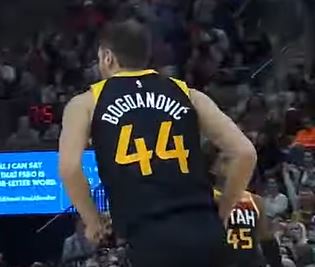 Utah Jazz is more and more likely to overhaul their roster after trading away their key pieces before the start of the new season.
After sending Rudy Gobert to the Minnesota Timberwolves and Donovan Mitchell to the Miami Heat, it is now the veteran Bojan Bogdanovic's turn to move.
The Jazz sent the veteran forward to the Detroit Pistons in exchange for Kelly Olynyk and Saben Lee according to the report of ESPN's Adrian Wojnarowski.
The 6'7″ sweet shooting Croatian averaged 18.1 points, 4.3 rebounds, and 1.7 assists per game last season compared to just 9.1 points, 4.4 rebounds and 2.8 assists average of Kelly Olynyk and the 5.6 points, 2.4 rebounds, and 2.9 assists of Saben Lee.
Two more star players are expected to be traded before the new season, namely the former Sixth Man of the Year and Fil-Am gunner Jordan Clarkson and former NBA All-Star Mike Conley. Both combined for 29.7 points per game last season.